Boothroyd Releases DFMA 2019 Software with New CAD Calculators
Press Release Summary: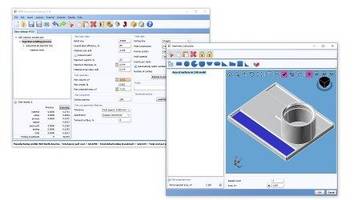 The Design for Manufacture and Assembly (DFMA) 2019 Software is used for analyzing parts and assemblies to improve quality and manufacturing efficiencies. The software uses intuitive question-and-answer interface for identifying the opportunities that reduce the cost of product. The CAD calculator of the software allows users to use cost driver information directly from 3D model. The DFMA 2019 is embedded with new graphical windows, charts and reports that enable the management to compare parts and assemblies.
---
Original Press Release:
Boothroyd Dewhurst Releases "DFMA 2019" Software
Supports design, manufacturing and procurement teams focused on lower-cost, higher-performance products
Wakefield, R.I., January 8, 2019—Boothroyd Dewhurst, Inc., developer of Design for Manufacture and Assembly (DFMA®) software, announces the availability of DFMA 2019 for analyzing parts and assemblies to reduce part count, control cost, and improve quality, performance and manufacturing efficiencies. Using DFMA, engineering and manufacturing teams are better able to assess part-assembly strategies, learn new design skills, benchmark existing and competitor products, add focus and structure to design reviews, integrate design and manufacturing, and support system-wide decision making.

"DFMA methods and data analyses are guiding engineers to reach the limits of what is possible in single-part functionality and economics," says John Gilligan, president of Boothroyd Dewhurst, Inc. "Our new software makes this journey to an optimal manufacturing outcome easier and more productive than ever."

DFMA software utilizes an intuitive question-and-answer interface that identifies opportunities for substantial cost reduction in a product. By applying industry-tested minimum part count criteria, the software finds parts that can be consolidated/eliminated while maintaining 100% functionality. The outcome of a DFMA-based design is a more elegant product that is both functionally efficient and easy to assemble.
Highlights of the latest version include:
New CAD calculators allow users to utilize more cost driver information directly from a 3D model. Over 200 data inputs across 27 process groups and over 100 machining operations include this new feature. Should-costing of parts is faster and easier for designers, cost engineers, and purchasing personnel.
 New graphical windows, charts and reports for engineering and top management that make comparisons between legacy designs and new concepts easy to analyze. Parts and assemblies can all be compared for time and labor, along with costs for manufacturing piece parts, manufacturing tools, assembly tools, assembly processes and all material aspects of product development.
"We have recently deployed DFMA 2019 across a number of product sectors," said Bill Devenish, global DFMA leader and principle engineer at Kohler Company. "The software's new reporting features have improved our capacity to quickly present outcomes to key stakeholders. Embedding the calculations for time and cost differences between design options also saves us time and reduces opportunities for clerical errors. Additionally, we are impressed with the ability to obtain dimensional data from the CAD models in DFM, which has resulted in faster "should-cost" analysis. This is a very user-friendly feature that takes the guesswork out of dimensionally defining key part parameters. This latest version of the Boothroyd Dewhurst DFMA software continues the company's leadership in product simplification and cost estimating."

About Boothroyd Dewhurst, Inc.
Boothroyd Dewhurst, Inc., was the first company to commercialize Design for Manufacture and Assembly (DFMA) methodologies and software tools, which make it possible to evaluate, estimate, and reduce the manufacturing cost of a product in the design phase through product simplification and cost estimation. Hundreds of Fortune 1000 companies, including Dell, John Deere, Harley-Davidson and Kohler, use DFMA to cut the costs of their manufactured products and achieve design innovation in their markets. The company was founded in 1983 and received the National Medal of Technology Award in 1991. For more information about DFMA software, workshops, consulting services, and international conferences, contact Boothroyd Dewhurst, Inc., 138 Main Street, Wakefield, RI 02879, USA. Tel. (401) 783-5840. Fax (401) 783-6872. Web site: www.dfma.com. E-mail: info@dfma.com.
Editorial contact:
Miles Parker and Lynn Manning, Parker Group
mparker@parkergroup.com
team@parkergroup.com
401-272-1510
More from Electrical Equipment & Systems