Boost Regulator offers power for USB OTG and HMI circuits.
Press Release Summary: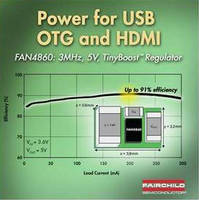 Featuring total area of 2.2 x 3.9 mm, 5 V 300 mA TinyBoost(TM) Model FAN4860 enables USB On-the-Go and HDMI functionality in Lithium-Ion portables. Device switches at 3 MHz frequency, enabling use of small capacitors and inductors to save board space. With VIN of 3.6 V at 1 mA, efficiency is 84% and at 200 mA, load efficiency is 91%. True load-disconnect between battery and load eliminates leakage from battery during OFF state, extending shutdown life.
---
Original Press Release:

Fairchild Semiconductor's 5V TinyBoost(TM) Regulator Facilitates a Richer User Experience in Smartphones and PMPs



Enables USB OTG and HDMI Functionality in Lithium Ion Portables.

SAN JOSE, Calif. - As portable devices begin to overtake the PC-centric world, it is increasingly important that cell phones, smartphones, digital cameras and other devices are able to communicate with each other. To enable this, Fairchild Semiconductor's (NYSE: FCS) FAN4860, a 5V 300mA TinyBoost(TM) regulator offers power for USB On-the-Go (OTG) and HDMI communication circuits, combining a high level of efficiency as well as a small form factor.

This device switches at a high 3MHz frequency, allowing the use of small capacitors and inductors, saving board space in space-constrained designs and reducing overall Bill of Material (BOM) costs. Available in two package options, WL-CSP (0.88 x 1.23mm) and ultra-thin MLP (2 x 2mm), the FAN4860 has a total solution area as small as 2.2 x 3.9mm.

This regulator offers the industry's highest efficiency for this form factor, extending battery life through an optimized power train and low quiescent current. With a VIN of 3.6V at light load (1mA), efficiency is 84 percent and at 200mA load efficiency is 91 percent. In addition, the true load-disconnect between the battery and the load eliminates the leakage from the battery during the OFF state, extending the phone's shutdown life. The FAN4860 also offers excellent transient response even with a small output capacitor.

This easy-to-design solution supports the quick design cycles found in the mobile device market, making it an ideal choice for cell phones, smartphones, PMPs and lithium-ion portables.

The FAN4860 is another example of Fairchild's broad solutions that extend battery life and conserve board space in portable and consumer designs. With a substantial portfolio of analog and power IP, along with system-level expertise, Fairchild develops solutions that define both user satisfaction and market success. The FAN4860 complements Fairchild's core power and battery management solutions, including the FAN5361 - a 6MHz 600mA Buck regulator, which allows the use of tiny 470nH chip inductors and 0402 case size input and output capacitors, as well as the award-winning FAN5355 - an 800mA/1000mA 3MHz Buck converter equipped with an I2C interface for dynamic voltage scaling.

Price: US$.48 in 1,000 quantity pieces

Availability: samples available now

Delivery: 12 weeks ARO

For a datasheet in PDF format, please go to:
http://www.fairchildsemi.com/ds/FA/FAN4860.pdf

Contact Information:

To contact Fairchild Semiconductor about these products, please go to: www.fairchildsemi.com/cf/sales_contacts/.

For information on other products, design tools and sales contacts, please visit: www.fairchildsemi.com.

Follow us on Twitter @ http://twitter.com/fairchildSemi.

View product and company videos, listen to podcasts and comment on our blog @: www.fairchildsemi.com/engineeringconnections.

Visit us on facebook @ http://www.facebook.com/FairchildSemiconductor.

Editorial Contacts:

Fairchild Semiconductor:

Gary O'Donnell

Corporate Marketing

1-(800) 341-0392 X 8439

Email: gary.odonnell@fairchildsemi.com

About Fairchild Semiconductor:

Fairchild Semiconductor (NYSE: FCS) - global presence, local support, smart ideas. Fairchild delivers energy-efficient, easy-to-use and value-added semiconductor solutions for power and mobile designs. We help our customers differentiate their products and solve difficult technical challenges with our expertise in power and signal path products. Please contact us on the web at www.fairchildsemi.com.

More from Transportation Industry Products