Boost Converter ensures accurate LED driving.
Press Release Summary: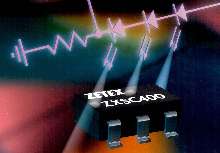 When used with high-efficiency switching transistor, voltage-mode ZXSC400 enables current in LED chain to be accurately set and monitored by one resistor. Across full supply range of Lithium-ion cell, converter's load and line regulation results in LED current typically changed by less than 1%. Supply voltage range of 1.8-8 V allows use with portable batteries. Converter, in S0T23-6 package, supports range of applications, including backlighting and flashlights.
---
Original Press Release:

Boost Converter Insures Accurate LED Driving


Hauppauge, New York - Used with a high efficiency switching transistor, the new Zetex ZXSC400 voltage mode boost converter IC enables the current in an LED chain to be accurately set and monitored by a single resistor. Across the full supply range of a Lithium lon cell, the ZXSC400's excellent load and line regulation results in LED current typically changed by less than 1%.

The use of an external Zetex high performance transistor allows the overall solution to be optimized for the required LED drive supply characteristics and for the multiple LED case. This achieves perfect current matching by series operation.

The ZXSC400's 1.8 to 8V supply voltage range makes it suitable for use with all common portable equipment battery options. The typical efficiency of the S0T23-6 packaged boost converter is 80% over a wide range of output current. A shutdown current of 4.5 µA is well suited to battery powered applications.

For applications driving up to four LEDs, the use of the ZXSC400 with a Zetex NPN transistor and Schottky diode combination in a 3mm x 2mm micro leaded package also insures that external component count and PCB space requirements are kept to a minimum.

The ZXSC400 voltage mode boost converter supports a wide range of lighting applications, including general LED backlighting and driving from a battery source, white LED backlighting for color LCD panels, and high performance white LED flashlights.

The 1,000 piece price is $0.51 each. Delivery is quoted at 4-6 weeks in production volumes.

For further information and reader inquiries:

Neil Chadderton, Zetex Inc.
700 Veterans Memorial Highway
Hauppauge, NY 11788
Tel: 631-360-2222
Fax: 631-360-8222
E-mail: nchadderton@zetex.com
Web: www.zetex.com


More from Controls & Controllers