Boon Edam Turnstiles Certified for New iRox-T Readers by Essex Electronics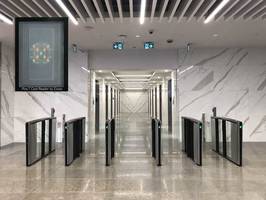 Lillington, North Carolina, January 23, 2019 – Boon Edam Inc., a global leader in security entrances and architectural revolving doors, is proud to announce that their Speedlane Lifeline optical turnstiles have been certified as compatible with the new iRox-T Turnstile Reader from Essex Electronics.
"Our Speedlane Lifeline optical turnstiles with the integrated iRox Turnstile Readers deliver a multitude of benefits to users," said Kurt Measom, Vice President, Technology and Support, Boon Edam Inc. "This integration is one more way Boon Edam continues to create solutions to address the growing demands for security in busy lobbies without sacrificing speed or functionality."
By integrating iRox-T readers with powerful embedded HID® iCLASS SE® technology, Speedlane Lifeline turnstiles offer users a greater readability range with support for multi-frequency, multi-technology applications including HID's most secure SEOS® technology. Supported technologies include standard proximity, iCLASS, iCLASS SE and MIFARE, DesFire, and EV1 & 2 for a range of access control manufacturers. The low profile of the iRox-T readers allow for optimal placement in the Speedlane Lifeline turnstiles to support maximum convenience and throughput.
This support of multiple technologies makes the Speedlane Lifeline optical turnstiles ideal for use in multiple-tenant applications, because each organization can use their preferred access credentials. This approach also supports simple migrations from existing low-frequency card systems to the latest, most secure credentials available today to strengthen and enhance facility security.
For additional information on the integrated Speedlane Lifeline optical turnstiles, contact Boon Edam at sales@boonedam.com. For technical questions on the iRox-T turnstile readers contact Paul Kluttz at pkluttz@keyless.com; 530-356-3555.
About Royal Boon Edam
We are proud to be a third generation Dutch family business committed to making people feel welcome and secure through our quality engineered entry solutions. Headquartered in the Netherlands, with a footprint spanning the globe, Royal Boon Edam International is a premium manufacturer of revolving doors, high security doors, turnstiles and Speedlanes. A heritage that exceeds 140 years has resulted in wide expertise in managing the safe transit of people through office buildings, healthcare facilities as well as via public and private spaces. We are truly focused on adding genuine value to our customers entrances and to a long-term relationship after sales, service and maintenance. We partner, collaborate and become an extension to the customer team to ensure that the project, people and valuables are in safe hands with us. We are your entry experts. Discover more about our latest news at www.boonedam.us/news or follow Boon Edam Inc. on our blog, Facebook, Twitter, and LinkedIn.
For Further Information, Please Contact:
Tracie Thomas, Boon Edam
Vice President of Marketing
T 910 814 8239
For Media Queries, Please Contact:
Sara Chaput, LRG Marketing
Public Relations
T 845 358 1801
Related