Boom Lift offers controlled arc work envelope.
Press Release Summary: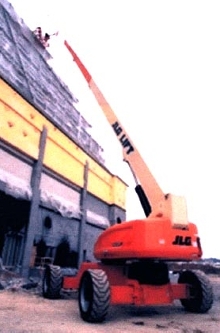 With 135 ft platform height, Model 1350SJP telescoping boom lift incorporates JibPLUS® 8 ft articulating jib boom that moves vertically and horizontally. Controlled arc work envelope manages boom movement as it raises and lowers through smooth vertical arc. Platform capacity is rated for 1,000 lbs (restricted) and 500 lbs (unrestricted). Automatic Capacity Control system adjusts work envelope to match selected load.
---
Original Press Release:

Huge Work Envelope on JLG® Boom Lift Aids Job Accessibility


McConnellsburg, PA, June 21, 2002 -- With 135-ft. platform height and exceptional horizontal reach, the Model 1350SJP telescoping boom lift from JLG Industries. Inc. reaches up to 50% more area than boom lifts with a 125-ft. platform height. The Model 1350SJP boom lift also incorporates the JibPLUS® 8-ft. articulating jib boom that can move both vertically and horizontally for improved access to hard to reach areas.

Adding to worker utility is the 1,000-lb. restricted platform capacity that can be used over the majority of the work envelope; unrestricted platform capacity is 500 lbs. An Automatic Capacity Control system adjusts the work envelope to match the selected load.

Efficient operation and operator comfort have also been engineered into the new boom lift by incorporating two new features, an electronic platform leveling system and swing speed proportioning. With the new leveling system, the platform is automatically leveled in relation to gravity, not the machine chassis, so the operator is always working or driving the machine from a level surface.

Swing speed proportioning maintains a constant platform swing speed as the boom rotates horizontally regardless of the boom radius. As the boom lengthens, speed is reduced so the platform is always moving a constant rate.

Another feature of the new boom lift is the controlled arc work envelope. The system manages boom movement as it is raised and lowered through a smooth vertical arc rather than a saw tooth pattern found on machines with limit switches. This provides a much larger work envelope than comparable machines, increasing the points of access for the operator.

With this proportional system. as the boom is extended and raised, the platform is automatically kept within the work envelope. Conversely, as the boom is lowered, it is automatically retracted to keep it within safe operating parameters. It always maintains the same percentage of boom extension throughout the work envelope; and when starting or stopping, boom motion is gradual so platform motion is smooth.

Advanced operational features that are standard on the Model 1350SJP boom lift include an oscillating axle with 12-in. of movement for a smoother ride, four wheel drive using two hydraulic drive pumps for improved traction with 45% gradeability, and four wheel steering with the operator's choice of front wheel, crab or 4-wheel coordinated steering. A proportional control system allows wheels to stay synchronized and tailors the maximum drive speed to the radius of the turning angle. Drive-out extendable axles require a smaller area to extend, and all steering modes are available during extension.

JLG's Ultra Series include the Model 1350SJP and the Model 1200SJP boom lifts - a 120-ft. platform height unit with the same operational features as the Model 1350SJP. Both are capable of using JLG's Workstation in the Sky(TM) accessories including the SkyPower(TM) package, which has a 7500-watt on board generator, the SkyWelder(TM) package with a 250-amp Miller® CST(TM) 250 welder, the SkyCutter(TM) package featuring a Miller Spectrum® 375 CutMate(TM) plasma cutter, the Sky Bright(TM) package for 6000 watts of lighting power, and the SkyGlazier(TM) package which includes a glass and panel tray and strap.

JLG Industries, Inc., is the world's leading producer of mobile aerial work platforms and a leading producer of telehandlers and telescopic hydraulic excavators marketed under the JLG® and Gradall® trademarks. Sales are made principally to rental companies and distributors that rent and sell the Company's products to a diverse customer base, which include users in the industrial, commercial, institutional and construction markets. JLG's manufacturing facilities are located in the United States and Belgium, with sales and service locations on six continents.

For additional information on the new telescoping boom lifts from JLG, contact:

Ms. Maye Houck
Marketing Communications Manager
JLG Industries, Inc.
13224 Fountainhead Plaza
Hagerstown, MD 21742

TEL: (240) 420-8721
FAX: (240) 420-8733
E-mail: [email protected]