Boom Lift Accessory integrates saw into aerial work platform.
Press Release Summary: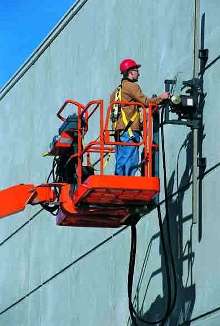 SkySaw(TM) integrates concrete wall saw system into aerial work platform and includes SkyCleaner(TM) pressure-washing system. Onboard hydraulic manipulator holds concrete saw and guides it along bolt-on track for precision cuts. Able to be operated by one worker, hydraulic pump powers saw, drill, and manipulator. Hydraulic hoses and water lines are located inside boom's power track. Adjustable system is capable of spraying at 1,000-3,500 psi. It includes two 150 gal water tanks.
---
Original Press Release:
Special Boom Lift Accessories Slash Concrete Cutting Costs
McConnellsburg, PA, - The SkySaw(TM) system from JLG Industries, Inc. integrates a concrete wall saw system into an aerial work platform. This dramatically reduces the costs and increases productivity for the concrete wall sawing and drilling industry. The JLG® SkyCleaner(TM) pressure washing system is included in the platform to reduce costly back charges associated with removing residue from the sawing activity. The SkySaw system has an onboard hydraulic manipulator that holds a concrete saw and guides it along a bolt-on track for precision cuts. With the onboard manipulator, the saw can be operated by a single worker. The on-board hydraulic pump that powers the saw, drill and manipulator is built into the engine compartment of the boom lift. Hydraulic hoses and water lines are located inside the boom's power track for protection. This design eliminates stand-alone power packs, as well as hoses draped over the sides of the platform. The SkyCleaner pressure washing system is an application adjustable system capable of spraying at 1,000 to 3,500 psi. Two 150-gallon water tanks are included on the machine's base along with a platform. The SkyCleaner accessory is available on selected models in addition to the SkySaw system and can be outfitted with a chemical injection system for additives needed in specialized cleaning applications. By moving to a one-person operation, rather than two, and eliminating the need for separate rental of a powerpack, washer and water truck, JLG estimates that contractors and saw cutting specialists realize approximately $1,500 per month, per machine in savings attributable. More importantly, the gain in average linear feet cut per day can increase a saw company's revenue by up to $44,000 per month, per machine. The JLG SkySaw concrete cutting system and the SkyCleaner washing system are part of JLG's line of Workstation in the Sky(TM) accessories that help workers become more productive. The package is available on JLG's Model 600S telescoping boom lift that offers 60-ft. platform height. JLG Industries, Inc. is the world's leading producer of mobile aerial work platforms and a leading producer of telescopic material handlers and telescopic hydraulic excavators marketed under the JLG® and Gradall® trademarks. Sales are made principally to rental companies and distributors that rent and sell the Company's products to a diverse customer base, which include users in the industrial, commercial, institutional and construction markets. JLG's manufacturing facilities are located in the United States and Belgium, with sales and service locations on six continents. For additional information, contact: Ms. Maye Houck Marketing Communications Manager JLG Industries, Inc. 13224 Fountainhead Plaza Hagerstown, MD 21742 TEL: (240) 420-8721 FAX: (240) 420-8733 E-mail: [email protected]