Boom Crane is suited for rough terrain.
Press Release Summary: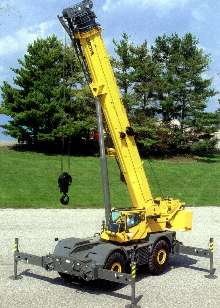 Equipped with 38-142 ft, 5-section MEGAFORM(TM) boom, model RT800E has max tip height of 150 ft and includes hydraulic counterweight. Standard 31-56 ft offsettable lattice swingaway extension offsets 0°, 20° and 40°. Cab seat incorporates armrest-mounted, hydraulic, single-axis controllers and tilts to 20° for view of load. Features include Graphic Display load moment and anti-2 block system with audio-visual warning and control lever lockout.
---
Original Press Release:

New Grove RT800E Rough-Terrain Crane Introduced


The Manitowoc Crane Group Product Expo, which was held in September 2003, was used as the occasion to introduce the new Grove 80-90 ton (75-80 mt) RT800E rough-terrain crane. The premiere of this new crane was available to distributors, customers and invited guests who attended the Product Expo held at the Shady Grove, Penn. plant.

The new RT800E exemplifies the continuing progression of the "E" series designation within the Grove rough-terrain lineup. This new model utilizes the same cab and control set up used on other "E" series rough-terrain cranes - the RT530E, RT600E, RT700E and RT9130E. Commonality among "E" series models is a feature that lets operators become familiar with controls and operation quicker.

The RT800E replaces both the RT875C and RT875BXL in the Grove line up and, compared to these machines, offers a higher lift capacity, longer boom, lower overall height, a standard counterweight removal system as well as the new "E" series cab. The boom is a 38-142 ft. (11.6-43.3 m) five-section, sequenced synchronized full power MEGAFORM(TM) boom. With standard boom, maximum tip height is 150 ft. (45.7 m). A standard 31-56 ft. (9.5-17 m) offsettable lattice swingaway extension offsets 0°, 20° and 40° and stows alongside the base boom section. With the swingaway installed, maximum tip height is 205 ft. (62.4 m). A hydraulically offsettable version of this swingaway is also offered which provides 5° to 40° offset controlled by the operator from the cab allowing the operator to immediately adjust to job site conditions. Two 16 ft. (4.8 m) lattice extension inserts are also available which provide a maximum machine tip height of 236 ft. (72 m). This is an additional 43 ft. (13. 1 m) increase in tip height over the RT875C and an additional 32 ft. (9.8 m) over the RT865BXL which the RT800E replaces.

The RT800E features a standard hydraulically installed and removed counterweight. This allows quick removal for transport and fast installation at the job site. The "E" series cab has tinted glass throughout and a deluxe seat incorporating armrest-mounted hydraulic single-axis controllers. As a special feature, the cab tilts to +20° for an easier view of the load, a feature which is also found on the larger 130-ton (120 mt) RT9130E rough terrain crane model. Also standard are a hot water heater, cab circulating air fan, sliding side and rear windows, sliding skylight with electric wiper and sun screen as well as other operational and convenience features.

The standard "Graphic Display" load moment and anti-two block system has audio-visual warning and control lever lockout. These systems provide electronic display of boom angle, length, radius, tip height, relative load moment, maximum permissible load, load indication and warning of impending two-block condition. A Work Area Definition System is also standard and allows the operator to preselect and define safe working areas. If the crane approaches the pre-set limits, audio-visual warnings aid the operator in avoiding job site obstructions.

Four hydraulic double-box beam outriggers feature inverted jacks and a three-position setting - retracted, 50 percent and fully extended. The engine is a Cummins QSB 5.9L diesel, six cylinders, rated at 275 bhp (205 kW) gross at 2,200 RPM. The transmission is a full powershift with six forward and three reverse speeds. A front axle disconnect is provided for 4x2 travel. A piston pump and gear pump provide a combined capacity of 127 GPM (479 LPM). Full width steel fenders, full length aluminum decking, rear view and hoist mirrors are all standard.

The Grove "E" series rough-terrain cranes were developed with intensive customer feedback and have proven extremely popular since their introduction and the RT800E is no exception.

About the Manitowoc Company
The Manitowoc Company, Inc. is one of the world's largest providers of lifting equipment for the global construction industry, including lattice-boom cranes, tower cranes, mobile telescopic cranes and boom trucks. As a leading manufacturer of ice-cube machines, ice/beverage dispensers, and commercial refrigeration equipment, the company offers the broadest line of cold foodservice equipment in the industry. In addition, the company is a leading provider of shipbuilding, ship repair, and conversion services/for government, military, and commercial customers throughout the maritime industry.

For More Information Contact:



Tim Cody,                            Lou Frank, President

Grove, Potain, Manlift/Americas      Frank Group, Inc.

Tel: (717) 593-5348                  (717) 840-1060

E-mail: tcody@groveworldwide.com     lou@frankgroupinc.com
More from Fluid & Gas Flow Equipment