Bonding Adhesive holds up to 450 F.
Press Release Summary: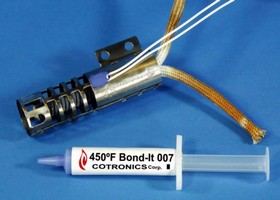 Bond-It 007 adheres to smooth, rough or porous surfaces. Curing in minutes at room temperature without odor, adhesive features consistency thick enough to hold parts together while drying without molds, fixtures, or clamps. There is no sagging or dripping following application. Adhesive is packaged in self mixing dispensing cartridges and attaches ceramics to metals, brake pads to metals, and seals ends of heating elements, thermocouples, tubes, and sensors.
---
Original Press Release:
Bond-It 007 450°F Licensed to Bond
Product 007 - Quick Set - Superbonder Forms 450ºF, Indestructible Bond Release Date Immediate Summary Bond-IT 007, 450ºF, Quick Set Superbonder forms High Strength Bonds in Just Minutes No need for clamps or fixtures. No odors or sticky fingers. Ideal for attaching thermocouples, strain gages, instrumentation, heating elements, sensors, etc. Easy to Use Packaged in Convenient self mixing dispensing cartridges. Just apply. No running dripping or sagging. No need for molds, fixtures or clamps. Its sticky consistency will hold assemblies or parts together while curing. Eliminate Objectionable Odors Bond-It 007 has excellent adhesion to smooth, rough or porous surfaces, most plastics, metals, ceramics, glass, wood, etc. Fast cures at room temperature without objectionable sulfur odors, unlike other fast sets or instant adhesives. Users Report Bond-IT 007 repaired heater assemblies, used at 300ºF, in chemical plants. Eliminated downtime and cost for replacement heaters. Bond-IT 007 bonds thermocouples, strain gages, sensors in tight locations in and around heavy production equipment. Bonds remained in place throughout months of use. Additional Applications Bonds ceramics to metals, brake pads to metals, assembling and repairing machines. Excellent for sealing the ends of heating elements, thermocouples, tubes and sensors. A trial kit is available for only $39.95 ea. Each kit comes complete with instructional booklet and a FREE copy of Cotronics' Latest, 2006, "High Temperature Materials Handbook." Quantity and Production pricing available upon request. All of Cotronics' Products are Formulated for Ease of Use and With Safety in Mind
Contact This Company Download Spec Sheet
More from Adhesives & Sealants