Bolt-on Trunnion Tables target 4-axis machining centers.
Press Release Summary: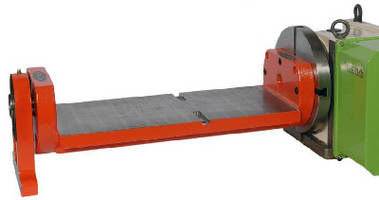 Available for Kurt vises, including DL675, DL688, and DL640, Stallion 9/20 and 9/23 bolt on to any machine's rotary indexer, allowing operator to precisely mill, drill, tap, and contour up to 3 sides of part in one setup. Tables feature heavily ribbed cast iron construction for rigidity. Model 9/20, measuring 9 x 20 in., holds single 6 in. vise, while 9 x 23 in. Model 9/23 holds double- or single-station 6 in. vise. Both have 0.001 in. flatness over 23 in. and 0.001 in. squareness to faceplate.
---
Original Press Release:

Workhorse Bolt-on Trunnion Tables bring Forth the Full Potential of 4-axis Machining Centers - Turn Vises into Virtues



Low-cost trunnion tables reduce part handling, speed throughput and improve accuracy at a fraction of the cost of new machines. Standard sizes accommodate popular vise models, made-to-order sizes available.



The TrunnionTable.com Stallion 9/20 and 9/23 tables allow users to exploit the rotary fourth-axis capability of horizontal and vertical machining centers, and deliver a low-cost path to higher productivity and improved accuracy. The bolt on trunnions are work-ready right out of the box, with standard-sized models designed for the most popular models of Kurt vises, including the DL675, DL688, DL640 and all high-density models. The versatile workholding workhorses reduce part handling and setups and allow more parts to be loaded and machined on more sides, delivering immediate ROI for job shops and other mid-range production environments. The trunnion fixtures are engineered to bolt on to any machine's rotary indexer, allowing operators to precisely mill, drill, tap and contour up to three sides of a part in one setup without special fixtures. Heavily ribbed cast iron construction provides high rigidity and durability, needed to withstand long-term repeated use in demanding shop environments.



The Stallion 9/20 and 9/23 rotary models have outboard supports customized to the centerline of a machine's indexer. The 9" x 20" model 9/20 holds a single 6" vise, while the 9" x 23" model 9-/23 holds a double- or single-station 6" vise. Both incorporate a through hole for the vise handle. The Stallion 9/23- is also available in double-sided (9-DS) and quick-change (9-QC) versions. The double-sided table enables machining on six sides, while the quick-change table enables 60-second changeovers with ±0.0005" repeatability.



Built for precision as well as durability, the 100 percent U.S.-made tables have 0.001" flatness over 23 inches and 0.001" squareness to the faceplate. "The fastest, easiest, least expensive way to get higher productivity, better part quality and a boost to the bottom line out of 4-axis machining centers is to add a bolt-on trunnion table," said Stan Martin, president of TrunnionTable.com.



"We have customers that have paid for the tables in just days through the increased throughput and reduced work in progress."



In addition to the ready-made standard sizes, TrunnionTable.com also offers quick turnaround for custom sizes and configurations, including a Large Series Table with a 3500-lb. hydraulic brake for extreme brake torque to eliminate twisting and machine chatter.



For more information on the Stallion 9/20 and 9/23 models, as well as custom-configured workholding solutions, visit www.trunniontable.com or call Stan Martin at 859.727.9900



CONTACTS:

Stan Martin, President

TrunnionTable.com

stan@trunniontable.com

859.727.9900

More from Architectural & Civil Engineering Products