Bolt-On Surface Lift Systems enable height adjustment.
Press Release Summary: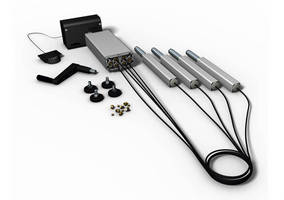 Bolt-on adjustable lift systems modify height of tables, desks, work stations, assembly tables, podium, countertops, or any work surface. Consisting of 4 height adjusting legs, pump, and motor or hand crank actuation, systems feature sit and stand height of 12 in. and travel distances of 8 and 16 in. Systems are available as bolt-on table leg lifts, built-in lift cylinders, and complete table frame systems designed to minimize employee fatigue and risk of injuries.
---
Original Press Release:

Bolt-On System Makes Any Work Surface Ergonomically Height Adjustable



Fairfield CT. – American Sales Development (ASD) announces its new bolt-on adjustable lift systems for easily  modifying existing tables, desks, work stations, assembly tables, podium, countertops or any work surface into an ergonomically height adjustable unit. Built in height adjustability is a desirable option offered by most workbench and workstation manufacturers. Such units can cost thousands of dollars however and restrain the availability of ergonomic height adjustability for workers. ASD bolt-on kits make ergonomically friendly work areas available to any existing work surfaces inexpensively and with minimal effort. ASD QS systems consist of four height adjusting legs, a pump, and either motor or hand crank actuation. Typical sit and stand height range is 12" but, the QS systems also offer travel distances of 8" and 16" for special situations. Each system arrives in one box completely assembled with drilling templates, ready to attach and operate. Systems are available from stock to 4 weeks and prices range from $433.00 to $690.00. 



ASD Adjustable Lift Systems are available as bolt-on table leg lifts, built in lift cylinders and complete table frame systems. An ergonomic workspace will substantially reduce employee fatigue and most importantly, will help to reduce the risk of injuries. Reduced tiredness and an optimal work environment lead to higher motivation and therefore to increased productivity and efficiency up to 15%. ASD ergonomic lift systems are quickly cost justified and paid back within months. The ASD system allows a smooth height or angle adjustment of any work surface.



Established in 2006, ASD, offers industry and consumers products to lift, move and control safely and ergonomically. ASD ergonomic products save time and money by reducing fatigue and injury in situations in which repetitive motions, heavy loads and static work positions exist. Whether you are responsible for your company's ergonomic and health and safety initiatives or considering a lean material flow process, fork-free environment for the workplace or just seeking out a better way to perform your job or hobby, ASD can assist.



For more information contact:

Edward Keane

American Sales Development LLC.

203-292-3860

asd1@americansalesdevelopment.net





More from Test & Measurement