Boiler Package helps reduce greenhouse gas emissions.
Press Release Summary: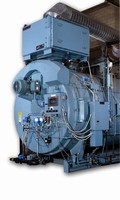 Optimized Boiler Package includes 250-800 hp boiler that burns either natural gas or #2 oil, integral burner, 2-stage condensing economizer, Level Master, and Hawk ICS control system with parallel positioning. It also features deaerator that prevents corrosion of boiler surfaces, steam supply piping, and condensate return lines, combustion air fan which allows a motor to operate only at its required speed, and trim system that continuously senses oxygen content.
---
Original Press Release:

Cleaver-Brooks Introduces Optimized Boiler Packages



July 23, 2008

New boiler packages to help reduce energy usage and greenhouse gas emissions

Milwaukee - Cleaver-Brooks, a provider of energy efficient, low NOx boilers and boiler technologies, is proud to introduce its latest cost-savings product offering to customers: the Optimized Boiler Package.

The Optimized Boiler Package helps facilities reduce fuel costs and greenhouse gas emissions up to 10 percent each and can deliver over 90 percent fuel to steam efficiency.

"Cleaver-Brooks is committed to helping its customers put money back into their businesses by becoming more energy efficient," said Dan Willems, vice president of product development for Cleaver-Brooks. "With fuel prices expected to remain high into 2009, these types of packages will help customers greatly reduce energy costs."

The new packages include a 250-800 HP high pressure steam firetube boiler that burns either natural gas or #2 oil, an integral burner, two-stage condensing economizer that helps maximize heat recovery, Level Master, and a Hawk ICS control system with parallel positioning. The all-in-one package ensures the boiler technologies are exactly matched, resulting in reduced energy usage and the best possible performance without compromising capacity or safety.

Other industry leading technologies found in an Optimized Boiler Package include:

A deaerator, which is used to extend boiler and steam system life and increase boiler system efficiency by preventing corrosion of boiler surfaces, steam supply piping, condensate return lines, and reducing boiler blowdown losses.

A combustion air fan with variable speed drive, which allows a motor to operate only at its required speed rather than a constant 3,600 RMP, helping to eliminate unnecessary energy consumption.

An O2 trim system in the exhaust gas that continuously senses oxygen content and provides a signal to the controller, trimming the air damper and/or gas valve, maintaining a consistent oxygen concentration, and minimizing excess air while optimizing the air-to-fuel ratio.

With the Optimized Boiler Package, customers can save up to $150,000 per year in energy costs while also reducing greenhouse gas emissions by up to 600 tons per year.

In addition, the Optimized Boiler Package is part of Cleaver-Brooks' Energy Savings Solution program, helping customers increase boiler room efficiency without an initial capital-heavy investment.

Cleaver-Brooks, a world-renowned provider of boiler room products and systems, is committed to providing efficient technologies that help its customers and the industry reduce energy usage, cost, and environmental impact. Selling to both the commercial and industrial markets, they are the only manufacturer offering an entirely integrated boiler room system. Their products are backed by a world-class distribution network offering superior aftermarket support. Visit cleaver-brooks.com for more information.

Customer contact information:
Dan Willems
at (414) 438-5460
or dwillems@cleaver-brooks.com

More from Machinery & Machining Tools