Boiler Controller simultaneously controls 4 chemical feeds.
Press Release Summary: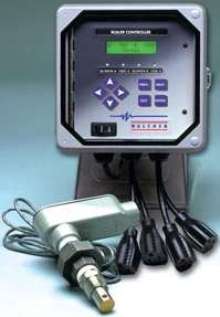 Microprocessor-based, menu-driven WBL310 is equipped with 4 feed/alarm outputs, allowing 4 different chemical feed methods to occur simultaneously. It uses time proportional blowdown method of water consumption sampling and performs automatic checks on conductivity to eliminate flushing problems. Utilized with contacting or Hall Effect style watermeter, product features automatic temperature compensated conductivity.
---
Original Press Release:

Boiler Controller Offers Extra Relays for Multiple Chemical Feed


April, 2004 - WALCHEM CORPORATION, Holliston, MA, introduces the WBL310 boiler controller with four feed/alarm outputs, allowing four different chemical feed methods to occur simultaneously, providing ultimate flexibility and high efficiency.

WBL boiler controllers are low cost, microprocessor-based, menu-driven industrial controllers. They offer the flexibility of four feed/alarm outputs, the efficiency of a unique time proportional blowdown method of sampling, and reliability due to automatic checks on conductivity, eliminating flushing problems. WBL310 controllers are exceptionally versatile and easily customized on site.

Efficiency is achieved by use of the WBL310's unique time proportional blowdown method of water consumption sampling. This keeps boiler water at the correct conductivity. Automatic temperature compensated conductivity ensures accuracy and the WBL310 may be utilized with either a contacting or Hall Effect style watermeter.

WBL310's simultaneous control of chemical feed inhibits corrosion, solids precipitation and scale build-up. The extra relays allow the user to feed multiple chemicals (e.g., oxygen scavengers, chelants, phosphates, amines) with one controller, using different feed methods for each if they want. The feed methods are: Feed in proportion to blowdown time, Feed after blowdown, feed based on a water meter, feed based on a paddlewheel flowmeter (Hall Effect), and feed as a % of time.

For more information, please contact Walchem Customer Service.

Walchem Corporation
Customer Service
Tel: 508-429-1110
info@walchem.com
www.walchem.com

More from Machinery & Machining Tools