BOD Bottles meet Class A borosilicate glass specifications.
Press Release Summary: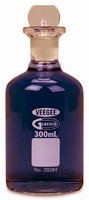 Available in packs of 6 and cases of 24, BOD bottles are manufactured from borosilicate tubing and suited for incubating diluted samples of clean water, wastewater, effluent water, and polluted water during 5-day biochemical oxygen demand (BOD) test. Flared mouth forms water seal to prevent ingress of air during incubation, and interchangeable glass pennyhead stoppers have tapered bottom that also prevents air entrapment.
---
Original Press Release:

VEE GEE BOD Bottles Offer Smaller Packaging & Class A Borosilicate Glass Specifications



Kirkland, WA, June 25, 2008-­VEE GEE Scientific introduces BOD bottles to its line of laboratory glassware. BOD bottles are the perfect choice for incubating diluted samples of clean water, wastewater, effluent water, and polluted water during the 5-day biochemical oxygen demand (BOD) test. Packaged with the consumer in mind, VEE GEE BOD bottles are available in packs of 6 and cases of 24; the small pack size is unique among BOD bottle manufacturers. Other benefits include interchangeable stoppers and large, permanent marking squares for flexible numbering.

VEE GEE BOD bottles feature a flared mouth to form a water seal to prevent the ingress of air during incubation. The interchangeable glass pennyhead stoppers have a tapered bottom that also prevents air entrapment. The Standard Methods for the Examination of Water and Wastewater recommends 300mL bottles with glass stoppers for the 5-day BOD test to determine the relative oxygen requirements of a tested sample. Water analysts measure the BOD of organisms in water to determine its quality.

Featuring the highest quality of glass on the market, VEE GEE BOD bottles are manufactured from high-quality borosilicate tubing; bottles meet ASTM E-438 Type 1, Class A borosilicate glass specifications.

Please contact VEE GEE Scientific for details, technical support or to locate a dealer to purchase VEE GEE and SIBATA glassware. Please visit www.veegee.com or call (800) 423-8842 to speak with a sales representative.

About VEE GEE Scientific, Inc.
VEE GEE Scientific is a wholesale manufacturer of scientific supplies and equipment. With its international network of dealers, VEE GEE equips scientists and technicians in a range of industries with cost-effective products that meet or exceed the performance of similar, higher-priced instruments. VEE GEE integrates quality brand names like VanGuard Microscopes and VEE GEE Refractometers with personal and professional service.

Contacts:
Kaely Culbertson, Sales & Marketing Account Representative, sales@veegee.com

Company Information:
VEE GEE Scientific, Inc.
13600 N.E. 126th Place, Suite A
Kirkland, WA 98034
USA
Phone: 425-823-4518
Fax: 425-820-9826
http://www.veegee.com

Related