Boards suit mobile embedded systems in harsh environments.
Press Release Summary: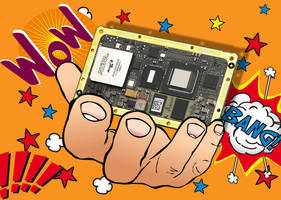 Measuring 95 x 55 mm, MM1 ESMini boards are housed in rugged, shock- and vibration-resistant packages with EMC protection and feature Intel Atom processors offering frequencies of 1.1 or 1.6 GHz. Consuming 7 W maximum, unit features operating temperature range of -40 to +85°C, real-time clock, and board management controller. Offering 1 GB DDR2 SDRAM, boards incorportate 512 KB of L2 cache integrated into Intel Atom processor. Various serial I/O connection options are available.
---
Original Press Release:

New ESMexpress-Based ESMini Minimizes Space and Power Demands for Compact and Mobile Embedded Systems in Harsh Environments



AMBLER, Pa. June 2009 - MEN Micro Inc., a world-renowned provider of embedded computing and I/O solutions for mission-critical industrial, mobile and harsh environment applications, now offers the first in its ESMini series, the smallest available form factor ESMexpress modules for reliable performance in rugged and mobile applications.

The new ultra-compact MM1 ESMini boards - only 95 mm by 55 mm - integrate first-generation Intel Atom processors based on 45-nm technology, offering processor frequencies of 1.1 GHz (Z510) or 1.6 GHz (Z530). House in rugged packages, the boards are ideal for use in aggressive designs found in commercial vehicles, railway, avionics, medical engineering and industrial automation applications.

The MM1 models consume a maximum of 7 watts for long-lasting mobile applications, and feature a broad operating temperature range of -40°C to +85°C in an enclosed housing that provides shock-resistant, vibration-resistant performance and EMC protection. Each module also includes a real-time clock and board management controller with watchdog.

If additional cooling beyond the screened operating temperature is needed, the housing can be connected to an external heat dissipation system (conduction) or combined with a heat sink on the top cover for heat dissipation (convection). In moderate application temperatures, the low-power version may also be operated without the frame and cover.

Every MM1 ESMini incorporates 512KB of L2 cache integrated into the Intel Atom processor, complemented by up to 1 GB of directly soldered DDR2 SDRAM main memory for significantly lower power dissipation, reduction in design costs and space-saving design flexibility. Each also supports additional memory, including USB Flash memory, on the carrier board to which the module is mounted.

Versatile I/O options cover a wide range of capabilities implemented through customized carrier boards to meet specific end-user requirements. These include modern serial I/O connection options such as a PCI Express x1 link, LVDS, SDVO, high-definition audio, SATA, and USB as well as legacy I/O interfaces, including CAN, COM, Fast Ethernet, and I(2)C, and up to 120 general purpose I/Os (GPIO).

ESMini boards incorporate multiple design features to satisfy extreme environmental concerns. Modules embedded in covered frames allow for efficient conductive cooling and ensure EMC protection. High-pressure screw connections between the housing and carrier PCB facilitate thermal connection of components.

All MM1 modules are equipped with rugged industry-proven connectors supporting high frequency and differential signal connections. All components are soldered in place to withstand shock up to 15 g/11 ms and vibration up to 1 g/10 Hz to 150 Hz (sinusoidal). The boards are also optimized for conformal coating. A compatible carrier board is available for application development and thorough testing of all module functions.

The MM1 family is the first in MEN Micro's ESMini series of ultra-small computers-on-modules (COMs), also known as systems-on-modules (SOMs). It provides a more compact, energy saving complement to the 95 mm x 125 mm-sized ESMexpress System-On-Module Standard - a new specification currently in development to be the ANSI-VITA 59 (RSE Rugged System-On-Module Express) Standard.

Both the ESMini and ESMexpress computer-on-mezzanine-board designs incorporate standard CPUs and leave custom I/O configuration dedicated to a carrier board to allow for individual functionality tailored to the specific application. And both combine advanced cooling technologies, the latest serial buses and rugged components to ensure safe, reliable operation in harsh environments.

Pricing for the MM1 ESMini starts at $497 in single quantities. Delivery is six weeks ARO.

For additional information, visit www.menmicro.com/products/15MM01-.html or contact Stephen Cunha, MEN Micro Inc., 24 N. Main Street, Ambler, Pa. 19002; Phone: 215-542-9575; Fax: 215-542-9577; E-mail: Stephen.Cunha@menmicro.com.

READER SERVICE INQUIRIES: Please forward all reader service inquiries to Stephen Cunha, MEN Micro Inc., 24 N. Main Street, Ambler, Pa. 19002; E-mail: Stephen.Cunha@menmicro.com.

About MEN Micro Inc.

Since 1982, MEN Micro has focused on innovation, reliability and flexibility to develop standard and custom board-level solutions used throughout industrial embedded applications and harsh environments.

The company provides a robust offering of highly reliable embedded computing and I/O solutions that employ the highest technology and innovations. In addition, MEN Micro offers exceptional custom development and environmental qualification services in accordance with industry standards. The company's standard product range contains more than 100 different computer boards and systems with corresponding BIOS, BSP and driver software based on different PowerPC and Pentium platforms.

The company has nearly 200 employees and is a member of several industry associations, consortiums and alliances.

More from Materials