BMU Series Brushless DC Motor meets IP66 standards.
Press Release Summary: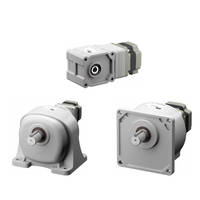 Designed with foot mount JB and flange mount JV gears, BMU Series Brushless DC Motor features motor connector. Offering up to 3,600 r/min maximum speed, motors achieves 1:45 speed ratio. Maximizing torque with helical gears, units deliver continuous flat torque and features stainless steel shaft. Gearheads are available for 200 Watt (1/4 HP) or 400 Watt (1/2 HP) motors.
---
Original Press Release:
Oriental Motor Announces Release of Brushless DC Motor with High-Strength and High Gear Ratio Gearheads
High-Strength, High-Gear Ratio Gearheads with Stainless Steel Shaft and IP66 rated
Oriental Motor is pleased to announce the expansion of our popular BMU Series with the introduction of two new high-strength and high gear ratio gearheads, the foot mount JB Gear and the flange mount JV Gear joining the right-angle hollow shaft JH Gear. These new gearheads are designed to be used with our 200 Watt (1/4 HP) or 400 Watt (1/2 HP) BMU Series brushless DC motors. The gear and motor combination increases allowable load of the output shaft and greatly increases maximum permissible torque while providing a space saving and high efficiency speed control system.
The new BMU series brushless motors achieve IP66 class protection through the use of a new motor connector type. And since torque is not saturated with the new high-strength and high-gear ratio gearheads, the maximum output torque is available at each gear ratio. The high permissible radial and axial strength enables powerful, high-spec operations.
The BMU series brushless DC motor speed control system offers a maximum speed of up to 3,600 r/min (80 to 3,600 r/min). Speed ratio of 1:45 is achieved. This allows for a wider speed range, wider selection of gear ratios and torque ranges making the BMU Series an ideal alternative for servo, brushed motors or AC three-phase Inverter driven applications.
The new BMU Series with IP66 rated motor connector and high-strength and high gear ratio gearheads are available for the 200 W (1/4 HP) and 400 W (1/2 HP) brushless motor & driver packages, available to ship in 9 business days.
The BMU IP66 with High Strength Gearheads key features are:
Stainless steel shaft, IP66 rated
New motor and connector type
Space saving
Maximizing torque with Helical gears
Continuous flat torque of a brushless motor
Broader and stable speed range compared to three-phase inverter driven motors
Visit our web site to learn more about the benefits of the new high-strength, high gear ratio gearheads and the new BMU Series brushless DC motors with IP66 rated motor connector at http://www.orientalmotor.com/products/brushless-dc-motors/bmu-series-brushless-dc-motors-jh-gear.html
ABOUT ORIENTAL MOTOR
Since its founding in Japan in 1885, Oriental Motor has been a world leader in motion systems. For over a century we have concentrated on technological advancement and product design improvement—an emphasis evident in the sophisticated devices we market today. Oriental Motor's sales and service network is international, with offices throughout North America, Europe and Asia. Domestically, ORIENTAL MOTOR U.S.A. CORP. was established in 1978.
For more information:
Steve Khou
Web & Marketing Planner
Oriental Motor U.S.A. Corp.
1001 Knox St.
Torrance, CA 90502
Phone: 310-715-330
Email: stevek@orientalmotor.com
Url: http://www.orientalmotor.com
Contact This Company Download Spec Sheet
More from Controls & Controllers