Bluetooth Tracking Device offers real-world range of 500 ft.
Press Release Summary: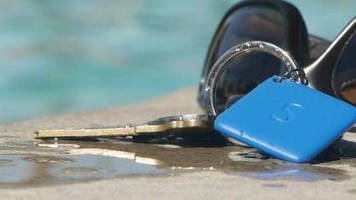 Working with its own smart-device application covering iOS and Android users, StoneTether lets users track items that are lost and provides tethering functions that prevent user from being separated from items. Customers can add items attached with StoneTether device that they want to bring to event on their calendar. If user leaves for event without StoneTether they have attached to items such as luggage, computer, or medication, they immediately get alert that they have forgotten items.
---
Original Press Release:

New StoneTether Bluetooth Tracking Device Takes Range to a New Level



ROCKLIN, Calif., – Del Marth LLC has announced a new bluetooth tracking device called StoneTether, that operates with a real-world range of 500 feet. Providing the first micro-device that provides this massive distance with a tracker that is just about the size of a quarter. As you would expect, the StoneTether device works with it's own smart-device application covering both iOS and Android users.



The application gives StoneTether owners the ability to track items that are lost and tethering functions that prevent you from being separated from items. However, the main focus of the tethering aspect of the StoneTether system is the ability to warn if children stray beyond set distances by parents. "The tethering function is especially useful for parents who are at a busy event and need to keep track of their kids; a situation I have been in quite a few times myself," states Ehrien Marth, Co-Founder of Del Marth LLC.



Besides distance, the most unique feature that StoneTether provides users is a novel solution for items that users want to bring to an event on their calendar. Customers are able to add items attached with a StoneTether device that they want or need to bring to any event on their calendar. If the user leaves for an event or trip without a StoneTether they have attached to luggage, computer, medication, etc., they immediately get a notification and alert that they have forgotten the specific item(s). "We wanted to create not just a 'where are my keys' device, rather something that just makes people's busy lives a bit easier," says Mike Walton, Co-Founder.



"This is something we like to refer to as Life-Automation," says Ehrien, "It's the ability to use technology to track and find anything, keep a watch over your kids, and check inventory for a trip; we provide this at a useful 500 foot distance that makes any other tracker obsolete."



StoneTether currently has a crowdfunding campaign through Kickstarter, providing backers pre-orders that are scheduled to fulfill in March 2015.



About Del Marth LLC: Del Marth LLC was originally founded by StoneTether creator and CEO, Ehrien Marth, a graduate of University of California, San Diego, previously in successful sales positions in the Tech industry. Ehrien has focused efforts to bring StoneTether to the market over the last few years perfecting StoneTether along with developing new uses of "next generation technology." Mike Walton heads the role of President of Del Marth LLC, who has successful experience in sales, distribution and operations in both the Technology and Beverage industry. VP of Design for Del Marth LLC is assigned to Brandon Conant who has an IT and design background and is responsible for bringing Ehrien's ideas and concepts to life.



www.stonetether.com

https://www.kickstarter.com/projects/delmarth/stonetether-the-smallest-tracking-device-at-long-r



CONTACT:

Ehrien Marth

1-916-790-0988

Ehrien.marth@delmarth.com

Mike.walton@delmarth.com



SOURCE  Del Marth LLC



Web Site: http://www.stonetether.com



More from Electrical Equipment & Systems