Bluetooth Headset meets industrial worksite demands.
Press Release Summary: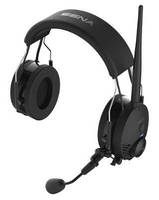 Protecting user with audio attenuation of 24 dB while supplying clear communication channel, Tufftalk headset promotes worker productivity and safety. This earmuff Bluetooth® (v4.1) integrated communication and intercom headset has 1.4 km working Bluetooth range and offers up to 15 hr of uninterrupted intercom communication between up to 4 headsets on AAA batteries. Other features include ambient mode, HD quality speakers, Advanced Noise-Control™ technology, and hands-free VOX technology.
---
Original Press Release:
Bluetooth Communications Leader Sena Announces Technology-Advanced Headset Addressing Industrial Worksite Demands
New Tufftalk allows workers to be more productive, conduct more effective interactions and make the jobsite safer and healthier

SAN JOSE, Calif. -- Sena Technologies, Inc., the global leader in Bluetooth communication devices for motorsport, outdoor and industrial solutions, announced today the release of its new Tufftalk headset, which is engineered with Sena's almost two decades of industrial wireless Bluetooth expertise.

Tufftalk
"Sena Tufftalk is the first fully Bluetooth integrated intercom device to both protect the user and supply a clearer communication channel." said Tae Kim, president and CEO of Sena Technologies, Inc. "This device marks our continued commitment to the safety and efficiency of the industrial field."

Sena's Tufftalk, an earmuff Bluetooth® communication and intercom headset, is designed specifically to meet the communication and connectivity needs of industrial applications. Tufftalk sports a 1.4 km working Bluetooth range – the furthest of any product on the market today. Its sturdy design and tough manufacturing offers up to 15 hours of uninterrupted intercom communication between up to four headsets. Coupled with its seamless compatibility with other Bluetooth and two-way radio devices, including Sena SR10i which allows for wireless two-way radio communication, Tufftalk far outpaces the competition.

Breaking through the noise
In rough and loud environments, safety is key, and this is exactly where Tufftalk truly shines. Tufftalk's secure earmuffs help protect users from harmful noise with an audio attenuation of 24dB. The ambient mode feature allows users to amplify external sounds – generating greater awareness of surroundings so important alarms or calls can be heard while still protecting hearing. For more active applications, Tufftalk offers an optional hard hat mount package.

"Poor worksite communication is costly for businesses," Kim said. "With Tufftalk we applied Sena's two decades of expertise to offer industrial strength seamless communication for the harshest of environments."

Equipped with HD quality speakers, Tufftalk delivers crystal clear audio that industrial mobile workers need to stay safe on busy and noisy worksites. Tufftalk features Sena's Advanced Noise-Control™ technology, which limits the interference of background noise while maintaining the full volume of voice communication. 

Sena's patented Jog Dial design is glove-friendly and easy to control, while the VOX technology allows users to answer phone calls, communicate and react to voice commands, all while hands-free. Tufftalk is also compatible with a Sena App to configure settings and presets easily through any smartphone. As with all Sena units, Tufftalk is completely firmware upgradeable to ensure it remains compatible with all of the latest Bluetooth technology.

Features
Firmware upgradable
Study design for industrial environments
Optional 1.4 km communication range, or 800 km with default antenna
Equipped with VOX for hands-free control
Pairs to smartphones and other Bluetooth enabled devices
15 hours of talk time with lithium battery or 12 hours with AAA batteries
Attenuation of 24dB
HD-quality speaker with Sena's Advanced Noise-Control™ blocking external noise
Compatible with two-way radios
Optional hard hat mounting available
Bluetooth 4.1

Since 1998, Sena has been recognized as a wireless leader specializing in Bluetooth-based solutions that benefit both users and businesses at large. Drawing from its industrial solutions, Sena is a leader in consumer goods in the power sports and action sports industries providing communication solutions for this market since releasing the SMH10 in 2011.

Like all Sena products, Tufftalk comes with Sena's industry-leading two-year warranty, and is now available on BuySena.com. For more information and the full Sena product line, please visit: www.SenaIndustrial.com.

About Sena Technologies, Inc.
Sena Technologies, Inc. is the global leader in Bluetooth Communication Devices for motorsports and industrial solutions – enabling real-time communication and optimal performance in the thick of the action. Using over 18 years of experience, and the most cutting-edge technological designs, Sena is helping change the way users communicate worldwide. Coupled with its sheer innovation in creating new perspectives, Sena is enhancing the lives of industrial workers and action-seekers for the better. Sena currently offers its products worldwide through its global network of distributors, retailers and OEM partners.

For more information on Sena Technologies, Inc. and its products, please visit www.sena.com,  www.SenaIndustrial.com or contact (949) 716-3793 or marketing@sena.com.

Facebook: facebook.com/senabluetooth
Twitter: @senabluetooth
Instagram: @senabluetooth

CONTACT: Kasey Clough, 949-554-8405, kasey.clough@sena.com
More from Software