Bluetooth Access Point features virtual serial port support.
Press Release Summary: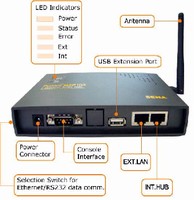 Designed to connect Bluetooth devices to 10/100 Base-T Ethernet network, Parani-MSP100 supports point to multi-point connectivity to 7 points and transmits data from each Bluetooth terminal to management station via TCP/IP at 723 Kbps. Unit supports TCP Server, TCP Client, Repeater, Vertex, and RS-232 operating modes. Running on embedded Linux OS, Parani-MSP100 features nominal transmit range of 150 m and can be extended up to 1,000 m with optional patch antenna.
---
Original Press Release:

Industrial Bluetooth Access Point With Virtual Serial Port Support



Short Description
The Parani-MSP100 from SENA is a Bluetooth Access Point that connects Bluetooth devices to 10/100 Base-T Ethernet network.

Details
The Parani-MSP100 from SENA is a Bluetooth to IP gateway that connects Bluetooth devices to 10/100 Base-T Ethernet network. Supporting point to multi-point connectivity to 7 points, it transmits data from each Bluetooth terminal to management station via TCP/IP at a rate of 723Kbit/s. Connections can be extended up to 14 using an optional USB extension dongle.

The Parani-MSP100 supports profiles including Serial port, LAN access, PAN and Dial-up networking to keep Bluetooth devices interoperating smoothly and easily. Serial Port Profile enables Bluetooth support for serial data connections. LAN access profile provides network access and Dial-up networking profile provides modem services. Security is handled through RADIUS authentication protocol.

Furthermore, the Parani-MSP100 supports various operating modes including TCP Server, TCP Client, Repeater, Vertex, and RS-232 modes. TCP Server mode allows management station to initiate a TCP connection to the Bluetooth device attached to the Parani-MSP100. And in TCP Client mode, the Parani-MSP100 receives data from serial device and establishes a TCP connection to management station. This mode is useful in applications like bar code readers where serial device needs to initiate the connection.

In Repeater mode, the Parani-MSP100 expands the range of your wireless network. And in Serial Hub mode, it acts as a hub for point-to-point communication between two Bluetooth devices or as an interface between 1 Bluetooth master and a series of slave devices.

The Parani-MSP100 runs on embedded Linux operating system, with flash memory for easy software upgrades, and built-in web server and web interface for quick installation, and remote configuration and management. The unit comes with LED indicators for power, status, error, and RJ45 connections. Nominal transmit range is 150m and can be extended up to 1000m using an optional patch antenna.

Application Areas
The unit is designed for large-scale wireless installations especially in the areas of retail/pos, industrial, medical, and banking sectors, which are traditionally fitted with serial connections. It can be used in a wide range of retail/POS applications including wireless payment and receipt printers. For example, a mobile phone could connect to a kiosk over a Parani-MSP100 link at which you could buy a ticket. Similarly, a PDA, mobile phone, or other device could be used to pay for goods and services using Parani-MSP100 Bluetooth communication links with a cash register.

In industrial applications, the Parani-MSP100 connects devices such as sensors, instruments, actuators, and other industrial equipment to wireless Bluetooth communications.

More Information
Features, specifications and ordering information
http://sena.com/products/industrial_bluetooth/bluetooth_device_server/parani_msp/

Datasheet
http://www.sena.com/download/datasheet/ds_parani_msp.pdf (pdf)

Panel layout
http://sena.com/products/industrial_bluetooth/bluetooth_access_point/parani_msp/layout/

Management software
http://www.sena.com/support/downloads/

About SENA Technologies
SENA Technologies is a leading manufacturer of Device Server product line that includes external, embedded, wireless and industrial device servers; and Industrial Bluetooth product line that includes Bluetooth serial adapters, Bluetooth serial modules and Bluetooth Access Points for device networking solution in the areas of IT/Telco, retail/POS, industrial automation, building automation, and medical automation.

Issued by
Kumar Nandi
SENA Technologies
Tel: (408) 573-7425
Fax: (408) 907-3738
Email: kumar@sena.com
Web: http://www.sena.com/

More from Chemicals & Gases