Blu-Ray Discs offer 5x capacity of DVD media.
Press Release Summary: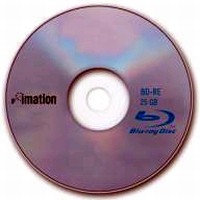 Available in BD-R recordable and BD-RE rewritable formats, single-layer Blu-ray Discs store up to 25 GB of digital files and are suited for business backup, including medical and government imaging, photography, and videography, as well as high-definition video recording. Discs are produced with protective coating that provides scratch resistance, anti-static dust resistance, and smear resistance.
---
Original Press Release:

Imation Gets Down to Business with Its Highly-Anticipated Blu-ray Discs



New high-definition format offers five times the data storage capacity of standard DVD media

OAKDALE, Minn., July 13 /-- Imation Corp (NYSE:IMN) today announced the availability of its Blu-ray media to major IT and data storage channel partners at its "Blue Technology" conference. Imation designed the conference and tour of its new advanced optical manufacturing facility at Imation world headquarters in Oakdale, Minn. to educate Imation channel partners on blue-laser optical technologies, and their application for high definition media in the enterprise. These leading optical media distributors and their customers know the challenge of keeping up with today's exploding data storage requirements, which are expected to triple by the end of the decade. Now, with Imation Blu-ray media, professionals have a simple solution for managing their growing quantity of critical data storage. Available in recordable (BD-R) and rewritable (BD-RE) formats, Imation Blu-ray discs store up to 25 GB of digital files -- five times the capacity of standard DVDs -- and are ideal for reliable business backup, including medical and government imaging, photography, videography, as well as high definition video recording.

"Businesses are producing and storing more data than ever before, whether due to multi-media content, migration to a more paperless environment, email proliferation, or more stringent compliance requirements," said Jim Milligan, general manager, Imation Commercial and OEM Division. "Imation's Blu-ray media will enable businesses to spend less time worrying about managing their data, and spend more time on their core competencies."

BD-R and BD-RE, Imation's first high-definition recordable media, offer high quality, "single session" optical backup. They are an ideal and efficient backup and archive solution for organizations of all sizes with high-capacity data storage needs. Blu-ray discs also allow for recording of high-definition television and video content, with crystal-clear picture and sound quality.

Imation Blu-ray discs are produced with a unique protective coating that provides scratch-resistance, anti-static dust resistance, and smear- resistance, ensuring a more durable and protected media surface. For even greater storage, Imation will also manufacture double-layer Blu-ray media later this year, delivering 50 GB of capacity on a single disc -- 10 times the capacity of standard DVD discs.

Individually packaged Imation Blu-ray recordable (BD-R) single layer (25 GB) and re-writable (BD-RE) single layer (25 GB) discs will be available in August for a manufacturer's suggested retail price of $19.99 and $29.99, respectively. For more information on Imation Blu-ray discs and where to buy them, go to www.imation.com/products/dvd_media/ .

With more than 25 years of optical disc technology expertise, dating to the introduction of the first video disc in 1982, Imation continues to pioneer superior optical media production technologies. In 2005, the company invested more than $10 million in advanced research, development, and modular manufacturing capabilities for "blue laser" high-density optical products, and is among the first companies to bring this new format to market. Imation also will bring HD DVD media to the SMB and enterprise markets, giving customers a choice for their high definition recording needs. Imation is a contributing member of the Blu-ray Disc Association, which supports the Blu-ray format, and the DVD Forum, which supports the HD DVD format.

About Imation Corp
Imation Corp is the only company in the world solely focused on the development, manufacture and supply of removable data storage products spanning the four pillars of magnetic, optical, flash and removable hard disk storage. With more than 50 years of data storage leadership beginning with the development of the world's first computer tape, in 2006 Imation proudly marks its tenth anniversary as an independent company. In addition to the Imation brand, Imation Corp's global brand portfolio includes the Memorex brand, one of the most widely recognized names in the consumer electronics industry, famous for the slogan, "Is it live or is it Memorex?(TM)" Additional information about Imation is available at www.imation.com/ or by calling 1-888-466-3456.

Imation, the Imation logo, Memorex, the Memorex logo, and 'Is it live or is it Memorex?' are trademarks of Imation Corp and its subsidiaries. All other trademarks are property of their respective owners.

CONTACT: Mary Rawlings-Taylor, Imation Corp, +1-651-704-6796, or mjrawlings-taylor@imation.com

More from Electrical Equipment & Systems