Blown Film Extrusion System supports equipment flexibility.
Press Release Summary: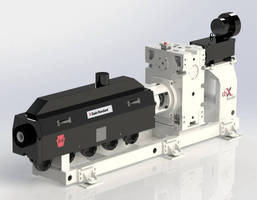 Offered with multiple extruder packages, dsX flex-film™Â comes in 1,900, 2,200, and 2,500 mm sizes and is equipped with extruders, feedscrews, gearboxes, air rings, and dies. Latter are manufactured for applications from 1–9 layers, and options for modifying equipment are based on application and processing factors. Targeting blown film applications, system supports processing efficiency. Line supports speeds up to 180 m/min and film thicknesses from 20–180 microns.
---
Original Press Release:

New dsX flex-film(TM) Delivers Value-Added, High Level Blown Film Performance



(Pawcatuck, Conn.) – Davis-Standard is pleased to announce the introduction of its new dsX flex-film™ line for blown film applications. Offered with multiple extruder packages to support the blown film industry's core market, this line exemplifies Davis-Standard's trademark quality and performance at an affordable price. Using Davis-Standard engineering and components, the dsX flex-film™ supports equipment flexibility, options for greater processing efficiency, a fast delivery and responsive localized service. Target applications include films for laminating and converting, bag making shrink film, hood shrink film, collation film, multi-unit packaging films, roll stock and surface print films.



"With the dsX flex-film™, Davis-Standard addresses the price, output, gauge uniformity and delivery requirements of a demanding blown film marketplace," said Tom Kennedy, Vice President of Davis-Standard Blown Film. "We believe this value-added system strengthens the marketplace by offering a high-level option to processors who seek a cost-competitive U.S. manufactured system."



Available in 1900mm, 2200mm, and 2500mm sizes, the dsX flex-film™ is equipped with Davis-Standard extruders, feedscrews, gearboxes, air rings and dies. Dies are manufactured at the company's Pawcatuck facility for applications from one to nine layers. Most dsX flex-film™ lines feature Davis-Standard's compact Vertex die. This die supports high IBC cooling air exchange rates and output rates, while supporting streamlined polymer flow, low residence time, fast flushing and excellent thickness control.



Options for modifying equipment are based on application, film thickness and other processing factors. The UpJet air ring is an option for increased output capacity. Surface winders can be upgraded to include center assist, gap winding, and reversible winding direction on a single winder with integrated nip, or back-to-back, or face-to-face winders with a secondary nip. Screw designs can be upgraded from X100 liner and Colmonoy 56 screw facings to more wear resistant X800 barrel liners and Colmonoy 83 screw flight facings.



The line supports speeds up to 180 meters per minute and film thicknesses ranging from 20 to 180 microns (0.8 to 7.0 mils). Advantages include die designs with among the the fastest formulation changes in the industry, options for multiple end-use applications, proven control systems and screw designs, flatter films with nip flattening enhancements, and U.S.-centered support and service for a faster response and shorter lead times. This line can be delivered and installed in as little as six months from order to acceptance.



For more information about the dsX flex-film™, contact Tom Kennedy at tkennedy@davis-standard.com or visit www.davis-standard.com.



About Davis-Standard, LLC

Davis-Standard, LLC (www.davis-standard.com), headquartered in Pawcatuck, Conn., is a global leader in the design, development and distribution of extrusion and converting technology. Davis-Standard systems encompass over 10 product lines to support manufacturing applications and customers within every major industry. This includes the agriculture, automotive, construction, healthcare, energy, electronics, food and beverage packaging, and retail industries, among others. With more than 850 employees worldwide and a network of independent sales agents and suppliers in nearly every country, Davis-Standard is committed to engineering equipment that is cost effective, environmentally friendly, and offers a high return on investment. The company has manufacturing and technical facilities in the United States, as well as subsidiaries with facilities in China, Germany and the United Kingdom.

More from Material Handling & Storage