Blower Heaters offer high pressure air flow.
Press Release Summary: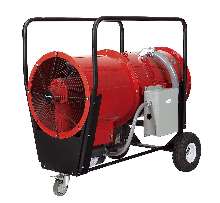 SuperDragon portable electric heaters are available in 30, 48, and 60 kW models. Maximum outlet temperature is 180°F with fans that are field-adjustable from 1100-2700 cfm. SuperDragon can heat rooms to 130°F without need for ducting and will operate in room maintained at 130°F. Units include drip-proof motor, 2 thermostats, 10 in. pneumatic tires, control transformer, and temperature high-limit cutout. They operate on 480 or 600 V single or 3-phase power.
---
Original Press Release:

New Superdragon Portable Electric Blower Heaters Offer Rugged Design And High Pressure Air Flow


PITTSBURGH -December 30, 2002 - Chromalox® announced today the introduction of "SuperDragon" a new line of industrial grade electric blower heaters. These high-capacity, portable heaters are available as 30, 48 and 60 kW models. Their rugged design and high-pressure air flow makes them ideal for commercial applications where rapid temperature rise and high-temperature maintenance are required. These units have the highest rated heat and airflow capacity of any truly compact electric blower heater.

Maximum outlet temperature is 180° F with high-capacity fans that are field-adjustable from 1100 to 2700 CFM. The SuperDragon is capable of heating rooms to 130° F without the need for ducting and will operate reliably in a room maintained at 130° F. An optional 20" diameter, high-temperature, flexible duct is available for attachment onto the unit as an inlet and/or outlet.

SuperDragon is an ideal blower heater for applications requiring high pressure air flow, such as: heat sterilization treatments, insect control in food plants (eliminating methylbromide), replacing PCP decontamination in infested buildings, and other high volume heat applications.

SuperDragon Blower Heaters come in Industrial Grade and Rental Grade configurations. The Rental Grade models include a welded aluminum frame, which protects the units from rough handling and allows them to be stacked to reduce valuable floor space during storage or shipping.

Standard features for both Industrial and Rental grade configurations include a drip-proof motor with adjustable fan speeds, two thermostats, 10" pneumatic tires, control transformer, and temperature high-limit cutout. These units operate on 480 or 600V single or three phase power. Overall dimensions are 44" L x 25.375" W x 38.5" H.

A companion line of "Dragon" Blower Heaters are available for comfort heating, freeze protection, and process heating applications.

Price and Availability

30, 48 and 60 kW SuperDragon Models (SDRA) are available for immediate delivery.

Pricing information is available at the company's website.

For more information. The SuperDragon product data sheet (PDS) contains complete specifications, temperature rise tables, accessories, and ordering information. To download the PDS and obtain pricing information, visit www.mychromalox.com < mychromalox.com/> or contact Chromalox at:

Telephone: 800-443-2640
412-967-3800
FAX: 412-967-5148
Address: Chromalox
103 Gamma Drive Ext.
Pittsburgh, PA 15238

About Chromalox, Inc.
For more than 85 years, customers have relied on Chromalox for the utmost in quality and innovative solutions for industrial heating applications. Chromalox manufactures the world's largest and broadest line of electric heat and control products, including heating components, immersion heaters, circulation systems, heat transfer systems, boilers, industrial and comfort air heating, heat trace cables, sensors and precision electronic controls. With multiple manufacturing, engineering, warehousing and sales locations throughout North America and Europe, Chromalox is a global supplier providing the highest level of customer support. Chromalox is headquartered in Pittsburgh, PA.


More from Electrical Equipment & Systems