Blow Molding Machines offer PC-based closed-loop control.
Press Release Summary: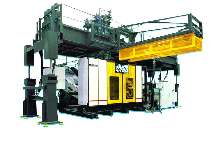 Tracker accumulator-head models T-1000, T-2300, and T-2900 employ PC-based XTREEM XP control and noise-immune fiber-optic cabling. Proprietary Quality Tracking Software provides closed-loop control on parison push-out speed and accumulator head refill. Units handle part lengths to 120 in. and part weights to 100 lbs, while offering plasticizing rates to 3000 lb/hr. Modular components enable machine customization. Platens range in size from 64 x 64 to 74 x 110 in.
---
Original Press Release:

Uniloy Milacron Brings Productivity and Precision to Large-Part Blow Molding with New Tracker 1000, 2300 and 2900 Machines


Modular design enables high degree of application customization, while PC-based closed-loop control optimizes part consistency, including multiple parison push-outs of different sizes

March 2003 - Uniloy Milacron sees a big future for blow molding to take cost and weight out of large plastic parts, and in conjunction with NPE is announcing three new, bigger models to its Tracker accumulator-head line of industrial blow molding machines. The new T-1000, T-2300 and T-2900 take part-making precision to new lengths (and weights) - part lengths to 120" (3000mm), part weights to 100 lbs (45 kg), and plasticizing rates to 3000 lb/hr (1300 kg/hr). Modular components enable machine customization with the economies of standardization, while creative engineering maximizes platen size with space-saving footprint. The advanced designs use Milacron's PC-based XTREEM XP control and noise-immune fiber-optic cabling for the ultimate in dependability in a factory setting, with proprietary Quality Tracking Software (QTS) providing closed-loop control on parison push-out speed and accumulator head refill.

In addition to the three new Tracker models, Milacron is introducing a complete new line of accumulator heads in a range of 10-50 lb (4.5-22 kg). Key features of the new heads include ability to accept oversized tooling for a given shot size, fixed spiral design, quick color change and increased push-out rates.

Introduced in 1996, Tracker machines today are the industry's first choice for large part blowing with installations in North and South America, Asia, Australia and Europe and highly diverse applications - automotive parts, industrial containers and components, household and outdoor products, and toys/recreational equipment.

The Tracker modular design enables high application flexibility. Clamp, accumulator head, extruder and power packages are pre-engineered standard modules. Mixing and matching these components lets each buyer essentially customize the machine, while maintaining cost-effective prices and lead times. The large Trackers can be specified with a single accumulator head up to 100 lbs (45 kg), dual heads up to 40 lbs (18 kg), and multilayer heads.

A standard hydraulically powered roll-out clamp helps speed and simplify mold changes, as well as provide complete access to the head tooling. An optional part take-out system features parallel gripper arms for efficient removal of parts even from multiple heads. All large Trackers can also be ordered in tandem clamp configuration to allow running of two different molds and parts for flexible scheduling or production of part sets.

For stability, the entire clamp module is supported by its own I-beam base, minimizing deflection and making possible large platen sizes from a compact footprint. The fully hydraulic, four-platen unit was engineered through finite element analysis (FEA) for maximum rigidity and optimal part pinch-off with controlled stress, while two-tie-bar configuration affords maximum clearance for mold loading and part removal.

Tracker clamp units offer a choice of platens:

T-1000 140-ton, 64" x 64" (1625 x 1625mm)
T-2300 295-ton, 86" x 86" (2184 x 2184mm)
T-2900 325-ton, 74" x 98" (1880 x 2490mm) or 74" x 110" (1880 x 2794mm)

Clamp stroke is 48" (1220mm) with 66" (1676mm) maximum daylight for the T-1000; 60" (1525mm) with 90" (2286mm) maximum daylight for the T-2300; and 60" (1524mm) with 90" (2286mm) daylight for the T-2900. Clamp speed is adjustable from 0-30 ips (762mm/sec), set at the XTREEM control.

Smooth or grooved feed section
Tracker machines come standard with a single 120mm feedscrew, with options of 150mm and dual extruders. The MeltStar barrier screw ensures a homogenous melt and complete color mixing by splitting the melt flow into several streams that move through parallel channels and recombine - working an efficient "kneading" effect on the melt to eliminate streaking.

Tracker machines can also be specified with an optional grooved, cooled extruder feed section, which forces the resin into the barrel by creating a pumping action between the longitudinal grooves and the screw. The pumping increases the output rate for a given rpm, resulting in not only less overheating due to shear, but also less power consumption per pound of resin, and correspondingly lower melt temperatures.

Automating Precision
Tracker machines come standard with Milacron's patented PC-based XTREEM XP control and can be fitted with discrete control as a machine option. The XTREEM brings Ethernet networking to the factory floor and provides the full functionality of a Windows® XP personal computer, including the Microsoft Internet Explorer® suite of software, and a host of other PC capabilities. When connected to the Internet, the XTREEM control permits password-authorized remote monitoring and control of the Tracker machine, with full audio and video capability.

The XTREEM uses the proprietary Quality Tracking System (QTS), to deliver exceptional process consistency by providing closed-loop control of parison push-out speed and accumulator head refill. The control lets users program up to 300 points of parison profile, with individual push-out speeds for each point. QTS corrects for temperature and pressure variations throughout the shot to keep parison speed consistent and repeatable according to the preset profile. QTS corrects for back pressure and material viscosity changes to eliminate their influence on parison formation, even when wall thickness varies drastically throughout the shot.

QTS also synchronizes refill of multiple heads according to the shot length setpoint entered by the operator. This avoids the need to "tweak" the back pressure valve on each head to maintain refill synchronization, thereby eliminating much of the tedious, manual setup work typical of blow molding. Closed-loop control of multiple parison push-outs, even with different parison sizes, ensures the ultimate in part consistency.

The free-standing, roller-mounted XTREEM also features a Process Monitor function that checks setpoint repeatability against user-programmable alarm limits, and offers an SPC option that lets users maintain and monitor a running process history. A Split Screens(TM) function lets users show four different screens or menus at once - including sequencing or Process Monitor data, current temperature readouts, or real-time plots of push-out pressure, die gap or other parameters. Internal storage offers room for 40 mold setups, with a USB memory stick or hard-drive interface available to provide additional storage capacity.

North America's largest producer of industrial blow molding machines, Uniloy Milacron offers a full range of accumulator head blowmolders between Eclipse models in 20-50 tons clamp force, and the Tracker series machines in 66-325 tons clamp force. All are produced at Milacron's award-winning Batavia, Ohio plant and globally supplied and supported.

For more information visit the web site: plastics.milacron.com

Sales inquiries should be directed to --
In Mexico, Canada and the U.S:
Mr. Gary Harvey
General Sales Manager
Blow Molding Machinery Business
Milacron Inc.
4165 Halfacre Rd.
Batavia, OH 45103
Tel: 513-536-2354
Fax: 513-536-3335
gary_harvey@milacron.com


More from Electrical Equipment & Systems