Blow-Molded HDPE Bottle pours same amount every time.
Press Release Summary: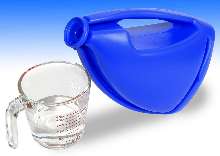 Molded from single parison, Precision Pour bottle design combines main chamber with measuring cavity in base, eliminating need for measuring cup. It incorporates vent channel running inside bottle handle and pour channel running inside rib on opposite side. Measuring cavity is separated from main chamber, except at base of handle. This ensures that measuring cavity refills only when bottle is set upright after pouring.
---
Original Press Release:

Precision Pour Blowmolded Bottle Design Delivers Exact Amount Each Pour


Development partnership creates unique HDPE bottle with main chamber, measuring cavity in base, vent and pour channels - all from one parison

August 2004 - A new bottle design from Precision Pour, Houston, TX, eliminates the measuring cup by incorporating a measuring chamber into the base of the bottle. The blowmolded HDPE bottle delivers the same amount each pour. Precision Pour conceived the patented bottle design, while FGH Systems, Denville NJ, engineered the blowmolding process and created the mold tooling. The process, which molds the bottle from one parison at competitive production speeds, was proven with a pre-production run on FGH's Uniloy Milacron UMS5000DE shuttle blowmolding machine. FGH is Uniloy's North American shuttle solutions center.

The sleek Precision Pour bottle design combines the main chamber with a measuring cavity in the base, a vent channel running inside the bottle handle, and a pour channel running inside a rib on the opposite side. FGH Systems created a hydraulic cylinder mechanism to collect and manipulate the parison with precise timing to form the measuring base. The mold pinches the parison to create the measuring base and the pour channel.

The measuring cavity is separated from the main chamber except at the base of the handle. When the bottle is tilted for pouring, the base empties, while the liquid level in the main chamber falls below the connecting port to the measuring cavity. Only when the bottle is again set upright can the measuring cavity refill.

The neck opening provides three holes after blowmolding - large fill hole, flanked by smaller vent and pour holes. After filling, the main hole is plugged. Because of the unique neck design, finishing is done by a spin-off trimmer.

A package design firm, Precision Pour licenses the bottle design. The design is adaptable to various bottle sizes and per-pour amounts. FGH provides a full range of technical services for implementing bottle production, from mold tool and process engineering to equipment integration, pilot production, and full turnkey installation and start-up.

For more information, contact:

Scott Kelley, Precision Pour Inc., 9801 Westheimer, Suite 302, Houston TX 77042. Tel: 713/785-9995. Email: scottkelley@precisionpour.net

Frank Hohmann, FGH Systems Inc., 2 Richwood Place, Denville NJ 07834. Tel: 973/625-8114. Email: sales@fghsystems.com

More from Printing & Duplicating Equipment