Blow Mold Changeover System offers semi-automatic operation.
Press Release Summary: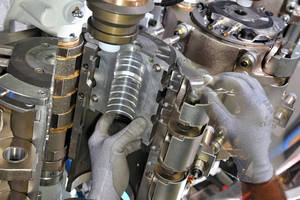 Bottle Switch(TM) improves blow molder flexibility by reducing mold changeover time in order to adapt to accelerated product changeover times on filler. Less than 1 min is required to change mold, reducing machine downtime while helping to avoid investment in storage silos or intermediate palletization. Semi-automatic solution places required blowing station directly in front of operator, who is only required to change molds. Removal/installation in mold support units is tool free.
---
Original Press Release:

Bottle Switch(TM): Less than a Minute to Change a Mold



The market is asking for faster: faster production, faster speeds, faster mold changeover...

Sidel answers the call with its new quick format changeover system, the Bottle Switch(TM). Sidel launches the Bottle Switch(TM), the new Sidel-patented quick format changeover system. The initial goal is to improve blow molder flexibility by reducing the mold changeover time in order to adapt to faster product changeover times on the filler: less than a minute to change a mold. This flexibility helps reduce machine downtime and therefore improves TCO. It is also a solution that helps customers avoid investing in storage silos or intermediate palletization.

The principle involves a simple, semi-automatic solution that places the required blowing station right in front of the operator. Easier unlocking of the mold support units ensures automatic opening.

The operator just has to change the molds and removal/installation in the mold support units is done tool-free.

The results are an easy-to-use system with no tools, optimal ergonomics, increased safety and a 50% decrease in machine downtime. On an SBO 20 Universal2, for example, full format changeover is now 18 minutes "bottle to bottle" for a single operator, instead of 33 minutes for two operators with the previous system. This changeover consists in replacing the shells, body and mold base as well as the stretching thrusts.

This new system is proving highly attractive: about 15 Bottle Switch(TM) systems have already been sold. This new system is available in Options & Upgrades for all the most recent generations of SBO Universal blow molders and will be available by the end of 2010 for all SBO Series2 and Combi machines.

About the Sidel Group
With more than 30,000 machines installed in 190 countries, the Sidel Group is one of the world's leaders in beverage packaging solutions: water, carbonated soft drinks, milk, sensitive beverages, oils, beer and alcoholic beverages. Sidel has production sites in 13 countries as well as sales and service offices in 30 countries. Around the world, the Group's 5,000 employees provide customers with complete bottling solutions, including package design, line engineering, packaging machines and related services. Innovation and Performance - the sustainable way.

To learn more about Sidel, come visit our Website: www.sidel.com.

More from Laboratory and Research Supplies and Equipment