Blocks and Runners are designed for one-way shipping.
Press Release Summary: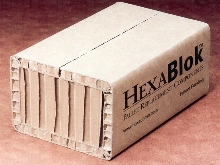 HexaBlok(TM) components facilitate material handling for bins and other large containers. They are applied to bottom of container by standard PSA, hot melt adhesives, or glues. Hexacomb honeycomb structure is made from kraft paper and water-based adhesives. Vertical cell orientation handles heavy loads. Blocks are available in 6 in. lengths, 6 in. widths, and heights of either 3 or 4 in. Runners are 60 in. long with same width and height.
---
Original Press Release:

New HexaBlok(TM) Components From Pactiv Offer Alternative For One-Way Shipping Applications


Lake Forest, III. (November 28. 2001)- Pactiv Corporation (NYSE:
PTV) launches HexaBlok(TM) blocks and runners as an alternative for one-way shipping applications.

The HexaBlok(TM) components have been developed to facilitate material handling for bins and other larger containers. The blocks or runners are easily applied to the bottom of the container by either standard PSAs, hot melt adhesives or glues. This lifts the container off the ground and makes it easy to transport via forklift or pallet jack.

Patent-pending HexaBlok(TM) components are made from Pactiv's
Hexacomb® honeycomb structure which, in turn, is made from kraft paper (linerboard) and water-based adhesives. The paper is sliced into strips which are glued together to form a pattern of nested hexagonal cells similar in appearance to a beehive honeycomb.

Its vertical cell orientation enables the honeycomb to handle heavy loads without a loss of strength. The water-based adhesives used to join the components enable the structure to be recycled with other paper and paperboard products.

To produce the HexaBlok(TM) components, Hexacomb® honeycomb is
wrapped around a core of the same material. This creates a structure that is performance-oriented, puncture resistant, costs less and is more durable than the expanded polystyrene, built-up corrugated and corrugated-wrapped alternatives typically used for these applications.

HexaBlok(TM) components deliver side-impact strength, similar to wood, to help defend shipments against rough handling by forklifts. Further, the components are extremely light, which facilitates handlings and contributes to lower shipping costs.

Blocks sold in perforated runners (10 blocks to a runner) and are available in 6-inch lengths with 6-inch widths and heights of either 3- or 4-inches. Runners are 60-inches in length with the same width/heights. (Runners can also be custom-cut-with band or table saws-to match your bins and containers.) Custom sizes are also available for large volume applications.

Further, the all-paper construction facilitates recycling, virtually eliminating disposal costs.