Block Scientific Offering Advanced Clinitek Advantus Analyzer from Siemens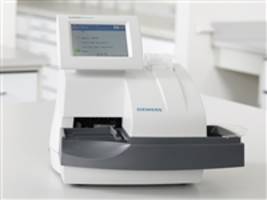 Block Scientific offers the Siemens Clinitek Advantus, a quality urinalysis analyzer featuring flexible operation to streamline clinical laboratory workflow.
An established lab equipment supplier based in New York, Block Scientific is offering the advanced CLINITEK Advantus® Analyzer from Siemens at a competitive price. Ideal for both clinical laboratories and physician office settings, the device is designed to meet the demand for higher productivity and quality. It provides consistent, reliable results and improved workflow eliminates the need for manually selecting urinalysis strip type.
This unit is ideal to provide automated reading of the Multistix® family of urinalysis tests such as Leukocyte, Nitrite, Protein, Blood, Glucose, Ketone, Bilirubin, Urobilinogen, pH, Specific Gravity, Creatinine and Protein-to-Creatinine Ratio. The features of this urine chemistry analyzer include
Easy-to-use color touchscreen
One-touch switching between test strip configurations
Increased control with automatic QC prompting and QC lockout capability to ensure compliance
Convenient data retrieval for up to 500 patients by patient ID, and 200 control results
Automatically read, interpreted, and documented Multistix® test strip results
Throughput of 7 seconds/sample; up to 500 tests/hour
Block Scientific offers this system with a one-year manufacturer warranty.
As a dedicated dealer in urinalysis analyzers and many other types of other advanced lab instruments, Block Scientific provides excellent post sales service. The company also offers recertified lab equipment and convenient reagent rental plans for labs with budgetary constraints.
About Block Scientific
Block Scientific is a reliable supplier of quality laboratory equipment including analyzers, microscopes, co-oximeters, incubators, centrifuges, pipettes, blood collection tubes and much more. To learn more about the company's products and special offers, visit www.blockscientificstore.com
Contact Details
22 Sawgrass Drive
Bellport, NY 11713 USA
Tel: 1-866-203-5777 (toll free)
Tel: 631-589-1118
Fax: 631-589-4088
Email: info@blockscientific.com
More from Material Handling & Storage