BLINKLESS® Mobile Hybrid Power Trailer uses optional solar panels.
Press Release Summary: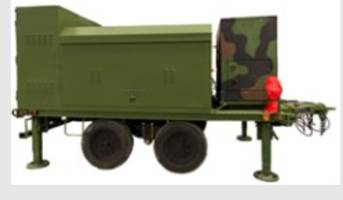 BLINKLESS® Mobile Hybrid Power Trailer is suitable for FEMA, fire, police and medical applications. Unit uses electrical inverters, a generator and lithium ion batteries. Product can be hooked to trucks.
---
Original Press Release:
The BLINKLESS® Mobile Hybrid Power Trailer Powers Disaster Response Units
Live on Kickstarter, The BLINKLESS® Mobile Hybrid Power Trailer provides critical power to first responders during emergencies
The BLINKLESS® Mobile Hybrid Power Trailer, a revolutionary new product capable of powering disaster response units during emergencies, is live on global crowdfunding platform Kickstarter and raising funds to bring the project to life.
With recent disaster-level storms hitting the country seemingly every few weeks and heartbreaking stories filling the news, the BLINKLESS® system is a break-through solution that will allow critical power to flow in the places it's needed and without the power grid.
"Like many others who watched the news recently involving the hurricanes and the damage they caused, we at Mechanical Electrical Systems were greatly impacted," says Rand Gengenbach, General Manager at MES. "The Founder of our company has a home in Ft. Myers, FL and there was grave concern about the devastation, and the threat of extended time with a lack of power."
When powerful storms hit, one of the first utilities to go down is the electrical grid systems and every year hundreds of lives are lost due to this lack of power. The BLINKLESS® mobile hybrid trailer can power disaster response units from first responders such as FEMA, fire, police and medical helping them save both time and lives. With a successful Kickstarter campaign, the company plans to use the money raised to develop a working demonstration to be presented and sold to these first responder units.
The BLINKLESS® system utilizes electrical inverters, a generator, Lithium Ion batteries, and optional solar panels or other clean energy capabilities. The system is very efficient in that it uses the solar panels' energy first and only uses the generator to recharge the batteries if the solar panels cannot. This saves fuel and it operates automatically and is very easy to use. It hooks to the back of most trucks and can be pulled right to where it's needed.
"We want to use our proven technology to help our fellow citizens to have power during any disaster. The loss of lives due to no power can be avoided," adds Gengenbach. "This technology needs to exist to provide power wherever power lines or power outages exist. Not only do these apply to disaster response but are also important for under-developed third world countries."
The BLINKLESS® Mobile Hybrid Power Trailer is currently live and available to support on Kickstarter: http://kck.st/2xJmG0x
About Mechanical Electrical Systems
Mechanical Electrical Systems (MES) is an industrial controls integrator, who has built engineered systems since 1979. In 2009, MES developed and patented BLINKLESS® technology, held by its sister company Blinkless Power Equipment LLC, as used on the MicroGreen Project, a State of Indiana/ARRA grant for SAIC, which combined Lithium-Ion batteries, a methane fuel source, a generator, photovoltaic panels, and our control system on a 53 foot mobile power trailer. Expanding on this technology, MES designed, built, and delivered the 45kW BLINKLESS® control system used on the Hybrid Power Trailer (HPT), demonstrated by ERDC-CERL at NIE 16.1 in 2015.
For more information on Mechanical Electrical Systems please visit http://www.mesindy.com
More from Fasteners & Hardware