Blinding Control System suits fine mesh screening.
Press Release Summary: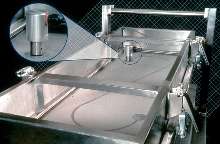 Ultrasonex System uses detachable transducer probe with titanium core to apply ultrasonic vibration directly to screening mesh via S-shaped resonator. Its action injects secondary, high-frequency, low-amplitude vibration to minimize mesh blinding and bridging and ensures that powders are screened through correct aperture size required. System screens powders through meshes as fine as 20 µm, while constant feedback from separator screen to control unit monitors throughput.
---
Original Press Release:

New ROTEX Ultrasonex(TM) Blinding Control System Is The Smart Solution For Fine Mesh Screening


CINCINNATI, OH (November 7, 2003) - The new Ultrasonex Blinding Control System from ROTEX, INC. is the smart solution for fine mesh screening, delivering higher throughput, finer screen separation, consistent product quality and longer mesh life.

The ROTEX Ultrasonex System uses a transducer probe to apply ultrasonic vibration directly to the screening mesh via the S-shaped resonator. The Ultrasonex action injects a secondary high frequency, low amplitude vibration to reduce mesh blinding and improve screener performance.

Eliminating blinding caused by surface tension, the ROTEX Ultrasonex System increases throughput at lower cost. Improved throughput also can now be achieved without the resulting fallout from conventional equipment.

By minimizing mesh blinding and bridging, the Ultrasonex System ensures that powders are screened through the correct aperture size required, providing accurate separations and raising profitability.

Capable of screening powders through meshes as fine as 20µm at unusually high capacity and efficiency, the Ultrasonex System's finer separation has resulted in the development of numerous applications throughout a variety of industries.

Ultrasonex has proven perfect for screening difficult or sticky powders applications such as metal powders, powder paints, pharmaceuticals, powder coatings, plastic resins, toner powder, food and various chemicals.

Ultrasonex also solves the problem of uneven loading. Constant feedback from the separator screen to the control unit monitors throughput. When the screen is heavily loaded, the control unit increases the power, maintaining the amplitude of the ultrasonic energy needed to pass materials without blinding.

Freedom from blinding eliminates the need for scrapers, brushes or rubber balls that can introduce contamination. With no abrasive mechanical actions, the ROTEX Ultrasonex System increases screen capacities and reduces mesh failure.

Ultrasonex's fully detachable ultrasonic probe incorporates a titanium core for high durability and non-wear on contact surfaces. The probe interfaces with the S-shaped resonator on the top-quality steel mesh surface. Each assembly is factory-tested for acoustic coupling before shipping.

The Ultrasonex System's highly efficient control unit is available in 110 or 220 volts, with touch panel controls that enable many of the settings to be easily adjusted by the operator for optimal performance.

ROTEX INC. engineers and manufactures a full line of screening equipment including ROTEX® Screeners and high capacity MEGATEX(TM) Screeners for particle size separation of grains, minerals, plastics and other dry solids; GRADEXT Particle Size Analyzers; and LIQUATEX® Liquid/Solid Separators. The company serves a global market in such industries as chemical processing, food processing, mineral processing, plastics compounding and agribusiness. ROTEX-xpress offers a full range of parts and rebuild services available through ROTEX headquarters in Cincinnati, OH.

To find out more about all the ways the new ROTEX Ultrasonex System can increase fine mesh screening capacity at minimal cost, contact your local ROTEX representative or applications specialists at ROTEX INC. 1230 Knowlton St., Cincinnati, OH 45223, www.rotex.com. (800) 453-2321, Fax (513) 346-5454 or e-mail info@rotex.com.

More from Printing & Duplicating Equipment