Blind Hole Mount Cable Ties feature metal locking mechanism.
Press Release Summary: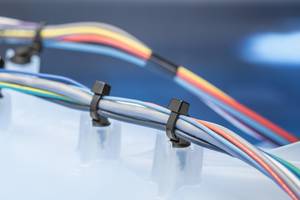 Blind Hold Mount Cable Ties are designed for threaded and non-threaded holes. Made of heat-stabilized PA66, units come with an inside or outside serrated cable tie or an offset cable tie. Suitable for elevated temperatures, the product is capable of affixing wire bundles and cables for blind hole applications. Cable ties come with optional nonmetallic material.
---
Original Press Release:
HellermannTyton Develops Innovative Blind Hole Mount Cable Ties
New mounts hold tight, can also be removed.
HellermannTyton announces an advanced line of Blind Hole Mount Cable Ties for threaded and nonthreaded holes. Designed to accelerate the bundling and affixing of wire bundles and cables for manufacturers, the new mounting system eliminates extra hardware versus traditional screw mounts. This means greater convenience when mounting to deep, quarter-inch diameter holes, especially in spaces difficult to access.
Central to the Blind Hole Mount Cable Tie product family is the new, proprietary mount – a metal locking mechanism secured to a nylon body. The metal component flexes to allow easy insertion. Once attached, its uniquely angled design delivers the extraction force manufacturers require for common electrical applications. Installers can remove the mount nondestructively with the twist of a hex driver, making it reusable without loss of performance.
"We learned from our field research with automotive and appliance manufacturing customers that they'd prefer an easy-to-use wire and cable mounting solution for blind hole applications," said HellermannTyton Product Manager Missy DeBord. "The industry's existing mounts were difficult to insert and impossible to remove without destroying the mount or, worse, the mounting hole. Our engineers came through with a sophisticated solution."
Each mount comes pre-assembled with an inside or outside serrated cable tie or offset cable tie. Made of heat-stabilized PA66, the system makes an excellent choice for elevated temperature applications.
The line includes a one-piece, nonmetallic option as well.
About HellermannTyton
HellermannTyton is a global leader in cable management and protection products, identification systems and network connectivity solutions. Its systems and solutions are specified by major manufacturers and contractors in the electrical, OEM, data communications, automotive, heavy equipment, renewable energy and related industries. The company's engineered solutions and innovative products are designed and constructed to meet the strictest quality standards while delivering reliable implementation at the lowest cost. HellermannTyton operates in 37 countries, with North American headquarters in Milwaukee, Wisconsin.
Contact:
Toni Parker
Phone: 414-355-1130 Ext. 8566
Email: tparker@htamericas.com
More from Controls & Controllers