BLE Modules offer ASCII-style interface, embedded scripting.
Press Release Summary: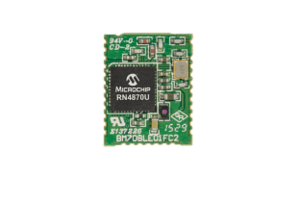 Bluetooth® Low Energy (BLE) modules RN4870 and RN4871 support Bluetooth 4.2 specification and have ASCII-style command interface that facilitates devices configuration and eliminates complicated code compiling. Also included, on-board Bluetooth stack with scripting engine enables standalone operation and eliminates MCU use for simple applications. Solutions further offer FIPS-based connection security and can support different beacon formats, such as iBeacon™ or Eddystone™, via one command.
---
Original Press Release:
Microchip Announces Next-Generation Bluetooth® Low Energy Solutions with Easy-to-Use Interface and Embedded Scripting Capability
RN4870 and RN4871 Modules Support the Latest Bluetooth 4.2 Standard

CHANDLER, Ariz. -- Microchip Technology Inc. (NASDAQ: MCHP), a leading provider of microcontroller, mixed-signal, analog and Flash-IP solutions, today announced two next-generation Bluetooth(®) Low Energy (BLE) solutions with an easy-to-use ASCII-style command interface that makes the devices easy to configure and eliminates any complicated code compiling. The RN4870 and RN4871 support the latest Bluetooth 4.2 specification and have a Bluetooth stack on board with a scripting engine to enable standalone operation and eliminate microcontroller (MCU) use for simple applications. These next-generation Bluetooth devices enable fast time to market and improve the total manufacturing cost.

The RN4870 and RN4871 devices deliver up to 2.5 times the data throughput improvement over previous generation products based on the Bluetooth 4.0 standard. In addition, the new Bluetooth solutions offer Federal Information Processing Standards (FIPS) based connection security coupled with advanced features. The devices can seamlessly transfer serial data over BLE devices and can support different beacon formats like iBeacon(TM) or Eddystone(TM) via a single command. Both devices with a shield option are fully certified to meet worldwide regulatory standards and are available with compact package options as small as 6 x 8 mm. This, combined with Microchip's user-friendly interface, helps speed customers' time to market.

"This latest offering from Microchip will ultimately enable Internet of Things (IoT) developers to build better end applications with lower power consumption," said Steve Caldwell, vice president of Microchip's Wireless Solution Group. "With our products, developers can reduce design complexity and shorten time to market significantly. These new RN-style modules are the easiest way for customers to get started with Bluetooth Low Energy solutions in their products."

Each module has an on-board software stack and pairs well with any of Microchip's large range of low-power microcontrollers or any microcontroller with a UART interface. The RN4870 and RN4871 are designed to complement Microchip's diverse low-energy solutions designed for IoT applications.

"Microchip was the first to offer Bluetooth 4.2 compliant silicon, modules and software" continued Caldwell. "We are proud to be a leader in Bluetooth technology."

For more information, visit http://www.microchip.com/RN4870_Wireless6321

Pricing and Availability
The RN4870-V/RM118, which is shielded with an onboard antenna, is available now for sampling and volume production in a 12 x 22 mm module starting at $5.40 each in 1,000-unit quantities. The RN4870U-V/RM118, which is unshielded with an external antenna, is available now for sampling and volume production in a 12 x 15 mm module starting at $4.47 each in 1,000-unit quantities.

The RN4871-V/RM118, which is shielded with an onboard antenna, is available now for sampling in a 9 x 11.5 mm module starting at $5.40 each in 1,000-unit quantities. The RN4871U-V/RM118, which is unshielded with an external antenna, is available now for sampling in a 6 x 8 mm module starting at $4.47 each in 1,000-unit quantities.

Development Support
Also available from Microchip is the RN4870 Bluetooth 4.2 Low-Energy PICtail(TM)/PICtail Plus Daughterboard with a sensor board (part # RN-4870-SNSR). The board is available today.

In addition, several existing interfaces will be supported by the RN4870 and RN4871 including the PIC18 Explorer Board (DM183032) priced at $99.99, the Explorer 16 Board (DM240001/2) priced at $129.99, and the PIC32 Expansion Board (DM320002) priced at $72.00.

For additional information, contact any Microchip sales representative or authorized worldwide distributor, or visit Microchip's Website at www.microchip.com/RN4870_Wireless6321. To purchase products mentioned in this press release, go to microchipDIRECT or contact one of Microchip's authorized distribution partners.

Resources

High-res Images Available Through Flickr:
--  Chip Graphic: flickr.com/photos/microchiptechnology/27697657732/sizes/l
--  Block Diagram: flickr.com/photos/microchiptechnology/27697654942/sizes/l

Follow Microchip:
--  RSS Feed for Microchip Product News: www.microchip.com/RSS/recent-PRProduct.xml
--  Twitter: twitter.com/microchiptech
--  Facebook: www.facebook.com/microchiptechnology
--  YouTube: www.youtube.com/user/microchiptechnology

About Microchip Technology
Microchip Technology Inc. (NASDAQ: MCHP) is a leading provider of microcontroller, mixed-signal, analog and Flash-IP solutions, providing low-risk product development, lower total system cost and faster time to market for thousands of diverse customer applications worldwide.  Headquartered in Chandler, Arizona, Microchip offers outstanding technical support along with dependable delivery and quality.  For more information, visit the Microchip website at www.microchip.com.

Note:  The Microchip name and logo, the Microchip logo, and PIC are registered trademarks of Microchip Technology Incorporated in the U.S.A. and other countries.  PICtail is a trademark of Microchip Technology Inc. in the U.S.A. and other countries.  All other trademarks mentioned herein are the property of their respective companies.

Tags / Keywords:  RN4870, RN4871, Bluetooth, Bluetooth Smart, Bluetooth 4.2, Bluetooth single mode, UART Transparent, ASCII Interface, Bluetooth for iPhone, Bluetooth for Android.

Reader Inquiries:
1-888-624-7435
More from Mechanical Power Transmission