BLDC Motor reliably serves severe down-hole applications.
Press Release Summary: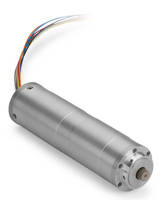 Built to withstand harsh conditions of oil exploration industry, 1.5 in. dia DII15-60-200A High Pressure High Temperature (HPHT) brushless DC (BLDC) motor operates under continuous duty in temperatures up to 205°C and pressures up to 30,000 psi. Motor features integral Hall commutation, uses Rare Earth Magnets, and withstands shock to 1,000 g and vibration to 25 g. Winding variations are offered to meet range of controller voltages and currents. Customization options are available.
---
Original Press Release:

New Motor Lasts Longer and Enables Deeper Drilling



VISTA, Calif — BEI Kimco Magnetics introduces a new, rugged brushless DC (BLDC) motor that was developed specifically to withstand the harshest conditions found in the Oil Exploration Industry.  The robust design also makes it suitable for other applications found in severe environments where failure is not an option.  As the extraction of oil reaches greater depths, drilling equipment must continue to operate reliably in increasing temperatures and pressures, while also enduring extreme shock and vibration.  In an industry where one hour of downtime can cost upwards of $100,000, having durable products that have been tested and proven to last is crucial. In some cases, replacing a motor in drilling applications can take up to ten hours or more.   BEI Kimco Magnetics understands this need and has designed a motor that can stand up to the challenge, and has the testing results to prove it.



The new 1.5" diameter DII15-60-200A High Pressure High Temperature (HPHT) brushless DC motor provides the ideal solution for severe down-hole applications such as mud pulser valves, caliper deployment and sensor positioning.  The motor has been successfully tested to operate under continuous duty in temperatures up to 205ºC and pressures up to 30,000 psi.



As Walter Smith, Applications Engineer/Project Manager explains, "BEI Kimco Magnetics is among the few companies that have subjected their design to an extensive environmental test protocol at 30K PSI.  This qualification test data proves motor performance in these deep drilling conditions where temperature, pressure, shock and vibration extremes combine to create a destructive environment for equipment operation."



To achieve the durability of this new motor, BEI Kimco Magnetics took a design with nearly two decades of success in the field and pushed the performance envelope into the HPHT realm.  The resulting motor features integral Hall commutation and uses Rare Earth Magnets to support high operating efficiencies and corrosion resistance.  Designed to withstand shock to 1000g's and vibration to 25g's, the new BLDC motor is built to endure the most extreme environmental conditions. To fit a variety of installations, the DII15-60-200A can be customized for gearbox or other feedback device options.   In addition, winding variations are offered to meet a wide range of controller voltages and currents.



"Today oil and gas operators have been forced to simply endure high motor failure rates, ultimately resulting in hours of downtime and hundreds of thousands of dollars lost," adds Smith.  "BEI Kimco Magnetics' new motor offers a solution that successfully prevents the downtime and cost associated with these failures."



For further information contact

BEI Kimco Magnetics

1499 Poinsettia Ave., Suite 160

Vista, CA  92081, USA

Tel: (760) 597-7042

Toll-free: (800) 572-7560

Fax: (760) 597-6320

email: sales@beikimco.com

www.beikimco.com



About BEI Kimco Magnetics

BEI Kimco Magnetics specializes in the design and manufacture of high performance rotary and linear motion components, including Brushless DC Motors and Voice Coil Actuators.  These products are designed for applications where performance, precision, and reliability are critical.  Using proprietary magnetic design methodologies, BEI Kimco Magnetics has the ability to produce custom, cost efficient products within multiple manufacturing locations.  BEI Kimco Magnetics is a leader in medical, industrial, aerospace & defense markets.



BEI Kimco Magnetics is a brand of Custom Sensors & Technologies (CST).



www.beikimco.com



About CST

Custom Sensors & Technologies (CST) is a specialist in designing and manufacturing sensing, control and motion products.

Through its brands, BEI Kimco, BEI Sensors, BEI PSSC, Crouzet, Crydom, Kavlico, Newall and Systron Donner Inertial, CST offers customizable, reliable and efficient components for mission-critical systems in Aerospace & Defense, Transportation, Energy & Infrastructure, Medical, Food and Beverage and Building Equipment markets.



Focused on premium value offers and committed to excellence, CST, with 4.400 employees worldwide and sales of $590M US in 2014, is the dependable and adaptable partner for the most demanding customers.



www.cstsensors.com

More from Services