BLDC Motor features Hall commutation circuit.
Press Release Summary: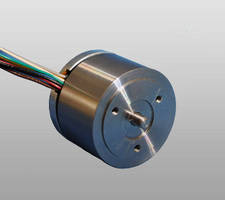 Suited for industrial scanning applications, DXH15-10-000A Outer Member Rotating BLDC Motor supports inner rotational speed variations by maintaining shaft run-out of ±0.010 in., resulting in jitter of less than ±0.1%. Precision ball bearings and balanced rotor ensure optimal operation at speeds in excess of 11,000 rpm under continuous duty over life of system. Measuring 1.5 in. OD and 1.0 in. in axial length, motor incorporates Hall commutation circuit that produces exacting switch points.
---
Original Press Release:

BEI Kimco Magnetics Introduces Outer Member Rotating BLDC Motor



Featuring Proprietary Hall Commutation Circuit for Low Jitter and High Accuracy Velocity Control

VISTA, Calif., − BEI Kimco Magnetics, a brand of Custom Sensors & Technologies (CST), Inc., has introduced the DXH15 Series Outer Member Rotating BLDC Motor to meet the high accuracy requirements for a variety of industrial scanning applications.

The new DXH15-10-000A Motor supports extreme inner rotational speed variations by maintaining a shaft run-out of only +/- 0.010." This results in negligible jitter of less than ±0.1%, which was a key requirement in meeting customer performance specifications for a laser bar-code scanning machine used in a production material handling application. The motor's negligible shaft run-out characteristics prevent the laser beam from rasterizing, which is critical to bar-code read accuracy and maximum throughput.

The new motor incorporates a proprietary Hall commutation circuit that produces the exacting switch points required by the customer's control electronics for rotor position sensing. The motor's precision ball bearings and precision balanced rotor ensure reliable operation at speeds in excess of 11,000 RPMs under continuous duty over the life of the system.

"The challenge in this product design was developing a motor that would consistently provide the tight rotational speed variations that would ensure accuracy in the application," says Walter Smith, BEI Kimco's Senior Applications Engineer. "In the bar-code scanning application for which the product was designed, that translates into improved through-put and fewer conveyor package rejections. At rates of 1400 scans per second, this represents a significant accomplishment."

Measuring just 1.5" in outer diameter and 1.0" in axial length, the new device fits into the tightly tolerance mechanical envelope specified by the OEM. Custom mounting and electrical interface features are also available.

BEI Kimco products have been used successfully in countless applications from high-end Industrial to Military and Aerospace to Medical applications. The ability to provide high performance solutions tailored to the specific needs of the customer has allowed BEI Kimco to fulfill many challenging requirements.

Pricing for the new DXH15 Series is in the range of $100.00 each in production quantities.

For further information contact BEI Kimco Magnetics, 1499 Poinsettia Ave., Suite 160, Vista, CA 92081, USA, Tel: (760) 597-7042; Toll-free: (800) 572-7560; Fax: (760) 597-6320; email: [email protected]; www.beikimco.com.

About BEI Kimco Magnetics:

BEI Kimco Magnetics is a brand of Custom Sensors & Technologies (CST). BEI Kimco Magnetics was founded in 1974 and specializes in rotary and linear motion control products. The company's precision motion control products include high-speed performance Brushless DC motors, Cylindrical and Flat Voice Coil Actuators, and Linear Motors. These products are used across a wide range of applications including medical and scientific, factory and office automation, optics, semiconductor/electronics, military, aviation, space systems, and security. Kimco merges leading-edge capabilities and cost-effective manufacturing know-how with highly customized applications expertise. www.beikimco.com

About Custom Sensors & Technologies:

Custom Sensors & Technologies (CST) is a specialist in sensing, control and motion products. Through its brands, BEI Kimco, BEI Sensors, BEI PSSC, Crouzet, Crydom, Kavlico, Newall and Systron Donner Inertial, CST offers customizable, reliable and efficient components for mission-critical systems in Aerospace & Defense, Transportation, Energy & Infrastructures, Commercial & Industrial OEMs, Medical, Food and Beverage and Building Management markets.

Focused on premium value offers and committed to excellence, CST, with more than 4,300 employees worldwide and sales of $571M US in 2010, is the dependable and adaptable partner for the most demanding customers. www.cstsensors.com