Blast System provides continuous, in-line operation.
Press Release Summary: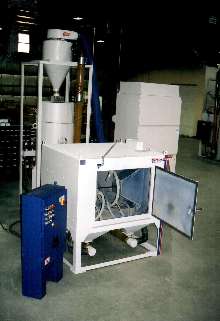 Model SP-900 through-feed blast system offers surface treatment of tube, pipe, and strip that is 1.5 in. in diameter or less. Six pressure-blast nozzles are fed by 12 ft³ capacity vessel that recharges itself automatically without interruption of grit flow. Interior of 60 x 72 x 48 in. cabinet is divided into 3 chambers to isolate noise and dust of blasting operation. Conveyance of work through blast cabinet is by external material handling equipment.
---
Original Press Release:
Continuous In-Line Blast System

July 15, 2003 - Saratoga Springs, NY - Guyson Corporation has designed and manufactured a through-feed blast system that is specially adapted for surface treatment of tube, pipe, strip and other materials that require in-line processing on a continuous production basis.

Intended for surface preparation work that involves the generation of a specific etched profile on outside surfaces prior to certain coating or cladding operations, the system is configured for tubular material that is one and one-half inches (1.5") or less in diameter. Conveyance of the work through the blast cabinet is by external material handling equipment.

The Model SP-900 utilizes direct pressure media delivery. Six (6) pressure-blast nozzles are fed by a twelve (12) cubic foot capacity vessel that recharges itself automatically without interruption of the grit flow. Three blast nozzles are rigidly mounted on each of two hoop-shaped brackets that maintain equal spacing, angles and distances of the nozzles from the work to enable 360-degree coverage with a high degree of uniformity.

Feed rates achievable with the Model SP-900 depend on the material of the work, its diameter, the abrasive and the specified surface condition. For technical surface preparation work, feed speeds in excess of 120 feet per minute are rare, however, in many cases upstream operations or the subsequent coating process take more time than the blast treatment.

To withstand constant exposure to harsh abrasives such as aluminum oxide or silicon carbide, the blast system's abrasion protection features include lining of the interior of the cabinet and the cyclone media reclaimer with extra thick urethane rubber sheeting, boron carbide nozzles and grit valves, and cast urethane ducting from the cabinet to the cyclone separator.

The interior of the 60" H x 72" W x 48" D cabinet is divided into three chambers to isolate the noise and dust of the blasting operation and provide a separate zone for air blow-off. The entry and exit openings of each chamber of the through-feed machine have rubber flaps with cross-slits to accept various pipe diameters. A tight-sealing door with safety interlocks provides access for inspection, adjustment and maintenance.

Prospective users of the Model SP-900 system are encouraged to submit sample sections of tube, pipe or strip material for free blast testing in the Saratoga Springs, New York, manufacturer's application engineering laboratory.

CONTACT FOR MORE DATA:

J. C. Carson

Guyson Corporation

Tel: 518-587-7894, ext. 226

jccarson@guyson.com
More from Materials