Blast Cabinet for Soda Media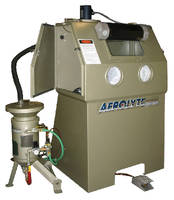 November 14, 2008

AEROLYTE Bicarbonator Blast Cabinet is designed for use with sodium bicarbonate media for cleaning and paint stripping surfaces without surface texturing or degradation. Soda blasting is popular among engine builders as the media is water-soluble, which simplifies the process of residual media removal and disposal.

Pressure blasting speeds the cleaning job, saving labor. The cabinet is industrial quality offering decades of service with its all-welded, 14-gauge steel construction. A powerful reverse-pulse dust collector and patented ventilation system ensure superior visibility. The unit features a 0.5 cubic foot capacity pressure blast machine with conical hopper and cover for easy loading and media containment.
Applications: powder-coated parts of all types and many automotive parts, including cylinder heads, engine parts, transmission parts, pumps, gearboxes, carburetor bodies and parts, fiberglass components, auto body parts.

Clemco Industries Corp., Washington, Missouri. Certified ISO-9001:2000. www.clemcoindustries.com or email info@clemcoindustries.com.
Direct leads to email or website.

More from Material Processing