Blank Tombstone Tooling Blocks Provide Economical Workholding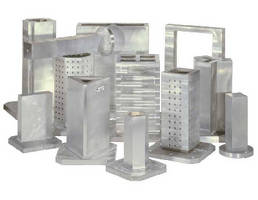 Carr Lane offers aluminum alloy tombstone tooling blocks, which reduce tooling cost and leadtime considerably. These versatile workholders are made of A713 Tenzaloy aluminum alloy, for light weight, high strength, and excellent vibration dampening. They are available in a wide variety of shapes and sizes, including two-, three-, four-, six- and eight-sided versions, as well as window, rotary and relieved tooling blocks.

These economical, custom blank tooling blocks, or tombstones, fit standard machining-center pallets, ranging from tiny 300mm to huge 1000mm pallets.

The blocks are stocked as unmachined blank castings, then quickly machined to your specifications, which can include a machined base with JIS or DIN location and mounting holes, and machined or unmachined faces.

Visit Carr Lane's site (http://www.carrlane.com/PressReleases/Blank.cfm)
for more information.