Black Polyurethane Adhesive serves automotive, home repair jobs.
Press Release Summary: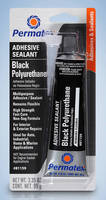 Formulated for versatility, Permatex® Black Polyurethane Adhesive can be used in both interior and exterior applications and performs equally in harsh environments and heavy-duty applications. This single-component, silicone-free, elastomeric adhesive has low-odor, UV-resistant formula. Exhibiting low volume shrinkage, paintable product remains flexible and provides permanent bond to diverse materials: steel, stainless steel, aluminum, glass, fiberglass, rubber, plastic, ABS, and PVC.
---
Original Press Release:

New Permatex Black Polyurethane Adhesive Formulated for Use in Automotive and Home Repair Applications



- Flexible adhesive suitable for harsh environments and heavy-duty applications



Hartford, CT… Permatex®, a leading innovator in chemical technology for automotive maintenance and repair, has developed Permatex Black Polyurethane Adhesive, a versatile and easy-to-use adhesive that can be used on both interior and exterior applications. Permatex Black Polyurethane Adhesive works equally as well in harsh environments and heavy-duty applications.



Permatex Black Polyurethane Adhesive is a single-component, silicone free, elastomeric adhesive formulated to be effective in a wide range of applications including automotive, home, industrial and marine repairs. It is low odor, UV resistant, and has particularly low volume shrinkage. It remains flexible and provides a permanent bond to a wide range of materials.



Permatex Black Polyurethane Adhesive is paintable with most paints and can be used above and below the water line. It bonds easily to steel, stainless steel, aluminum, glass, fiberglass, rubber, plastic, ABS, and PVC. Key automotive applications include: Dashboard, internal/external trim, console, doors and body panels, windows, headlights, accessories, seams, sunroof, spoilers, trunk, underbody, wheel well, and mud guard. Since Permatex Black Polyurethane Adhesive is silicone free, it is safe for use in auto body and paint shops.



Permatex Black Polyurethane Adhesive also has home applications including joints, skylights, stone, masonry, concrete, windows, doors, flooring, countertops, siding, bathrooms, and kitchens.  HVAC: Use to seal gaps to limit heating and cooling energy loss.



Permatex is a leading manufacturer, distributor, and marketer of premium chemical products to the automotive maintenance and repair markets. Since 1909, Permatex has been an acknowledged leader in the development of innovative new products and services for the automotive aftermarket. Permatex markets a wide range of products under well-known ITW brand names such as Permatex®, Fast Orange®, Spray Nine®, the Right Stuff®, Gel Twist®, Ultra Bond® and Dr. Bond®, Ultra Cherry®, and Grez-Off®.



Permatex currently operates in the United States, Canada, Mexico, and the U.K. and exports products to more than 85 countries around the world. North American operations include Permatex's headquarters in Hartford, CT and a state-of-the-art manufacturing, distribution, and technical center located in Solon, OH.



Permatex is a division of ITW (Illinois Tool Works Inc.), a US based, NYSE listed corporation, founded in 1912. ITW is a Fortune 200 diversified manufacturing company.



For more information, contact:

Keith Nelson

Permatex

860-543-7500

Keith.Nelson@Permatex.com

More from Machinery & Machining Tools