Black Oxide Finish provides break-in lubricity for metal parts.
Press Release Summary: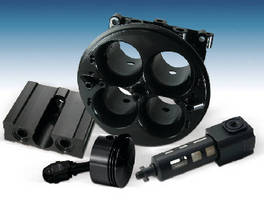 Utilizing immersion tank process line, LUMICLAD forms non-dimensional black oxide finish on aluminum surfaces that is electrically conductive and adherent to metal substrate. Inherent lubricity aids in break-in and resists galling. Suited for piston/cylinder assemblies, actuators, and slides, 30-min process develops uniform coating thickness of .000060 in. that will not close hole diameters or alter critical part dimensions. Slightly porous crystal structure also absorbs optional topcoat.
---
Original Press Release:

Now Get Superior Break-in Lubricity for Aluminum Pistons, Actuators and Valve Mechanisms Using New LUMICLAD® Process from Birchwood Casey



Eden Prairie, Minnesota: Metal components requiring break-in lubricity and galling
resistance for mating aluminum surfaces have a new option with the LUMICLAD® finish.

The LUMICLAD process forms a non-dimensional black oxide finish on all aluminum
surfaces that is clean, durable and tightly adherent to metal substrate. The finish has an inherent lubricity that aids in break-in and resists galling, making it an ideal finishing choice for product assemblies with sliding contacts. Aluminum machine components, such as piston/cylinder assemblies, actuator mechanisms, slides and valve assemblies achieve smoother break-in with a LUMICLAD finish than with conventional anodized finishes.

Proven in real-world applications, the LUMICLAD finish offers superior conductivity and
break-in lubricity in an attractive and protective black finish that is simple and economical to apply. The 30-minute process develops a uniform coating thickness of .000060 inches (1.5 micron) that will not close down hole diameters or change critical part dimensions. The black finish is smooth, clean and electrically conductive, making it the coating of choice for assemblies requiring a chassis ground.

The unique, patent-pending LUMICLAD process delivers a smooth satin black finish with
a slightly porous crystal structure that absorbs an optional topcoat, such as clear polymer, light oil or dry-to-touch sealant.

Prior to the development of this new blackening process, black anodizing had been the
only viable blackening option for manufacturers of aluminum components. While the anodized finish is extremely durable, the process is so complex that only those who specialize in it can operate it properly and consistently. Though the protective properties of a black anodized finish are high, often they are higher than the application requires and they come at significant additional cost.

By contrast, the LUMICLAD process utilizes a conventional immersion tank process line.
It is easy and safe to operate so that manufacturers can operate it in-house themselves, thereby eliminating the need for outside processing. For most applications, a seven-tank line and a 30-minute process time does the job from start to finish.

"Using the LUMICLAD finish on mating aluminum surfaces is a new frontier for our
advanced metal finishing technology," reports Mark Ruhland, vice president of Birchwood
Casey. "We are excited to be able to introduce this breakthrough process with so many benefits.

No other non-electrolytic blackening finish for aluminum is as easy and safe to operate. An inhouse LUMICLAD process line streamlines workflow while providing low operating costs and high quality."

Available direct from Birchwood Casey in sizes to fit all applications, the LUMICLAD
products may be ordered online for immediate shipment at www.birchwoodcasey.com
For FREE literature on the LUMICLAD® Black Oxide Process, Call 952-937-7931.
Or, email: info@birchwoodcasey.com Or write to Birchwood Casey, 7900 Fuller Road, Eden
Prairie, Minnesota 55344-9702. Fax: 952-937-7979.