BLACK MAMBA: Hi-Performance Coolant-Fed Drills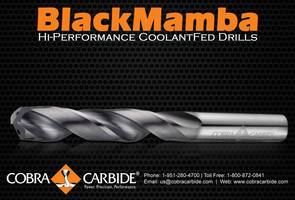 Brief Overview:
140° point angle and high performance geometry allows for high penetration rates.
Cobra's high performance high penetration drills provide accurate hole sizing as well as near burnished holes.
Manufactured from sub-micron grain carbide.
A Step Above the Rest
When it comes to milling and other CNC applications, only the best tools will ensure costs stay low and productivity stays high. In order to keep these goals within reach, it's important to learn which products will suit your needs, no matter the demands.
Coolant-Fed drills are important for many applications due to their increased capabilities in removing chips from your cut. There's nothing more disappointing to a machinist that tapping a chip and potentially ruining the product being worked on. Not only are these drills more effective in certain applications, there are reasons to choose BLACK MAMBA coolant-fed over our competition.
Titanium Aluminium Nitrite (TiALN) Coating
Improved Lubrication - Dramatic Friction Reduction
140° Self-Centering Point
30° Helix for superior chip removal
Made from High Performance, sub-micro grain Carbide
Our BLACK MAMBA drills simply out-perform and outlast any competitor's drills. Even with all of these great features, we keep the prices at a very VERY reasonable price. We can guarantee our Carbide drill to not only "grip and rip" with confidence, but will do so for a longer amount of time.
Solid Carbide vs. Other Metals
As is common knowledge between CNC machinists and other people who work within the industry, there are typically three types of metals that are used for creating these tools. They are: High-Speed Steel, Cobalt, Carbide-tipped / Carbide-Complete. Each of these have different applications for the material that you're working with. We source our Carbide from one of the most respected and distinguished companies in Germany. Only the best top quality Carbide create the best tools.
Carbide-Complete, the metal of choice for Cobra Carbide, is the only metal that can truly "grip & rip". This becomes especially important when machining, as it reduces the need for stops or offset re-calibrations. Not only do we guarantee this tool will replace whichever is your current favorite, but it will outlast those other tools 20-50x.
Less Tool Changes = Higher Productivity = Lower Costs = No Brainer!
Making a mistake and pushing certain tips too hard will result in either losing the tool itself or having to scrap the material you're currently working with. Our coolant-fed BLACK MAMBA series is so efficient at removing chips and other debris.
Top Quality Carbide Products
We have products for any application and will custom-make those we don't carry!
Why Choose Cobra Carbide?
Our improvements to the geometric design drastically increase the effectiveness of Axial, Radial cutting, while speeding up your overall surface footage. Cobra Carbide creates tools that have the highest penetration rates, decrease cycle times, and will increase your product quality.
Cobra Carbide should be your first choice for the best Carbide Endmills, Drills, reamers, and Burrs.
Cobra Carbide
12650 Magnolia Avenue
Riverside CA 92503
phone: 951-280-4700
url: http://www.cobracarbide.com
contact: Victor Romo
email: us@cobracarbide.com