Black 100% Recycled Content Masterbatch delivers sustainability.
Press Release Summary: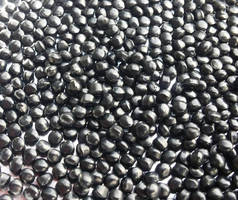 Made of 100% recycled carbon black from post-consumer tires, ECOBlack product provides sustainable alternative to conventional carbon black. ECOBlack 40 consists of polyethylene-based masterbatch and can be used in such traditional applications as film, sheet, and molded items. Material supports use at typical masterbatch letdown ratios of from 2%–5%. Possible areas of use include automotive and office furniture applications.
---
Original Press Release:
Modern Dispersions Inc. Introduces New ECOBlack Masterbatch at K 2016
New 100% Recycled Content Black Masterbatch Delivers Sustainability and Cost Advantages

LEOMINSTER, Mass. – Modern Dispersions Inc., a leading global supplier of thermoplastic compounds and concentrates, has launched a new line of black masterbatches that contain 100% recycled content. The company's ECOBlack product, made of 100% recycled carbon black from post-consumer tires, sets a new standard for quality versus competitive recycle-content black masterbatches and delivers a cost savings. The company will introduce the new masterbatch at the K 2016 exhibition (Hall 5/C09-4), which runs Oct. 19-26 in Düsseldorf, Germany.

"Our new offering, ECOBlack, provides a sustainable alternative to conventional carbon black and establishes a new benchmark in terms of quality and cost," said Jan Kozma, vp. of sales and marketing for Modern Dispersions Inc. ECOBlack 40 complements the company's line of black masterbatch formulations. It is a polyethylene-based masterbatch that provides the same performance as many standard grades of carbon black. From the sustainability standpoint, the use of 100% recycled content delivers major advantages. Every ton of feedstock used in the recovery process results in the elimination of one ton of oil in the production process and 1.4 tons of CO2 emissions, according to the company.

The black masterbatch offers a cost savings from 5% to 10% over standard grades and can be used in many traditional applications such as film, sheet, and molded items. The new material is used at typical masterbatch letdown ratios of between 2% and 5%.

Modern Dispersions has trialed the new black masterbatch in several automotive and office furniture applications.

MDI employs more than 200 people at two locations in Leominster, Mass. and Fitzgerald, Ga. At these two production sites, compounding and concentrate capacity now exceeds 200 million lb per year.

About Modern Dispersions Inc.
Modern Dispersions, Inc. (MDI) is a leading thermoplastic compounder and concentrate maker based in Leominster, Mass. MDI is respected in the market for providing the best value and highest quality carbon black masterbatches, white concentrates, and specialty additive compounds. The company's products are used to manufacture articles in many markets and provide broad-based performance in terms of UV protection, static dissipation, and extending product life. MDI products can be found in agricultural film, electrostatic dissipative housings used in electronic packaging, cell phones, fabrics, and household items. State-of-the art facilities are equipped with truck and rail logistics, enabling delivery of large-bulk purchases as well as less than truckload orders. In addition to its standard product portfolio, MDI works closely with customers to develop specialty proprietary grades. For more information, visit www.moderndispersions.com.

Press Contact:
Joseph Grande
413.684.2463
joe@jgrandecommunications.com
More from Material Processing