Bits are color coded for quick recognition.
Press Release Summary: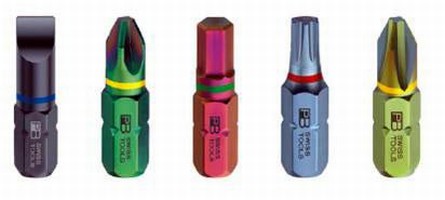 PrecisionBits® universal bits feature color coding for different types, variations, and sizes of bits to make them easily distinguishable. Color rings denote screw size differences, while color differences show alternating bit-types. All bits feature nanotech coating for rust protection.
---
Original Press Release:

New and Unique at PB Swiss Tools: Color Coding According to Type of Screw and Size



Gainesville, GA, June 27, 2007: The correct Precision Bit® at a glance. No more frustration and wasted time. Thanks to the color coding, you have the right bit at hand in a short time. There is an almost unlimited number of types and variations of bits. The color coding of the various types of bit means that you can easily distinguish between, for example, Phillips and Pozidriv bits at a glance. Also, being able to tell the difference between the sizes by the color rings means an additional reduction of the daily workload! The colored nanotech coating is an attractive protection against rust. Examinations and tests show that hard metal or diamond coatings quickly wear off and loose their function. The most important characteristic of quality bits are a distinctive tenacity with at the same time a high hardness and their exactness. The PB Swiss Tools PrecisionBits® assortment fulfills these requirements. Our universal bits for all applications simplify the storage and the overview.

PB Swiss Tools specializes in high quality hand tools that are designed for anyone requiring precision and optimum performance. This is because PB Swiss Tools manufactures using a very unique spring-steel alloy and the latest in robotic assembly technology. These tools (Screwdrivers, Torx® drivers, Hex Keys, and more!) are sold with a variety of handles, individually or in sets, and some are even gold plated! These tools are proven to out last any tool you have ever owned. All of this and the tools are backed by an unlimited lifetime guarantee, so you never have to worry about buying another tool again. We are familiar with the demands that professionals and DIY enthusiasts place on these first-class tools that are in daily use in over 30 countries world-wide. As customers are able to work successfully with these tools, they happily recommend our brand to other people. Buy yourself a tool you can rely on, buy PB Swiss Tools.

More from Chemicals & Gases