Bipolar Transistors are offered in multiple package options.
Press Release Summary: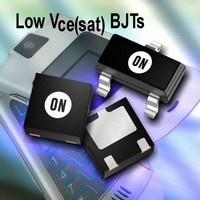 Designed for low voltage, high-speed switching applications, Low Vce (sat) bipolar junction transistors (BJTs) come in WDFN6, WDFN3, SOT-23, SOT-563, and ChipFET packages. Surface mount devices feature saturation voltage of 45 mV at 1 A and high current gain. Suited for variety of portable applications, transistors offer electrostatic discharge tolerance of more than 8,000 V and are self-protecting against unexpected surges and damage.
---
Original Press Release:

ON Semiconductor Expands Standard Component Portfolio with 11 New Low Vce(sat) BJTs in SOT-23, SOT-563, WDFN and ChipFET Packaging



New BJTs deliver improved power efficiency and lower system costs
for portable and battery powered applications

PHOENIX, Ariz. - Oct. 25, 2006 - ON Semiconductor (Nasdaq: ONNN), a leading global supplier of efficient power management solutions, today announced the expansion of its industry leading low Vce(sat) bipolar junction transistors (BJTs) portfolio to include WDFN6, WDFN3, SOT-23, SOT-563 and ChipFET packages. These new devices offered in multiple package options incorporate advanced silicon technology and provide better power efficiency and longer battery life than traditional BJTs or planar MOSFETS. The devices are ideal for a variety of portable applications.

"ON Semiconductor continues to expand its portable products portfolio to provide design flexibility and enable optimal power conservation," said Mamoon Rashid, general manager of ON Semiconductor's Discrete Products Division. "Our best-in-class BJT portfolio delivers the industry's lowest power loss and best thermal performance. We have now expanded this portfolio to more than 20 products to offer designers the widest selection of high performance BJTs on the market today."

The new low Vce(sat) surface mount devices are specifically designed for use in low voltage, high-speed switching applications where energy efficiency control is vital. They feature ultra-low saturation voltage - 45 millivolts (mV) at 1 amp - and high current gain. Offering a high electrostatic discharge (ESD) tolerance of >8,000 volts (V), they are self-protecting against unexpected surges and damage. By providing superior electrical performance and low temperature coefficient, they improve power efficiency and ultimately, battery power conservation.

The SOT-23 is one of the industry's most popular packages and offers the lowest cost. The SOT-563 is the smallest of the new package offerings at 1.6 mm x 1.6 mm x 1.0 mm. The two WDFN packages are 2.0 mm x 2.0 mm with a low 0.7 mm package height. This package is the most thermally efficient on the market today for portable applications. The ChipFET at 3.0 mm x 2.0 mm x 1.0 mm provides the best overall performance.

Ideal applications for these devices include power management, battery charging, low drop out regulation, vibrator motors, LED backlighting, disk drive control, camera flash and low power buck / boost converters.

Packaging and Pricing
The complete low Vce(sat) BJT series is available in a variety of industry leading packages, including SOT-23, SOT-563, WDFN, ChipFET, SC-88, SC-74 and TSOP-6. They are priced between $0.18 to $0.40 USD per unit for quantities of 10,000 units.

For additional information about the Low Vce(sat) family of devices offered by ON Semiconductor, visit www.onsemi.com keyword "BJT" or contact Steve Sheard at steve.sheard@onsemi.com.

About ON Semiconductor
With its global logistics network and strong portfolio of power semiconductor devices, ON Semiconductor (Nasdaq: ONNN) is a preferred supplier of power solutions to engineers, purchasing professionals, distributors and contract manufacturers in the computer, cell phone, portable devices, automotive and industrial markets. For more information, please visit ON Semiconductor's website at www.onsemi.com.

Anne Spitza
Marketing Communications
ON Semiconductor
(602) 244-6398
anne.spitza@onsemi.com

More from Sensors, Monitors & Transducers