Bipolar Transistor targets 1,030 MHz avionics applications.
Press Release Summary: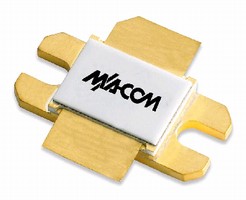 Suited to operate in IFF/TACAN or similar short pulse formats, M/A-COM MAPRST1030-1KS features minimum gain of 8.0 dB with 45% minimum collector efficiency on 50 Vdc supply. Class C unit is rated for 1,000 W peak and housed in hermetic, ceramic/metal package that can tolerate 10:1 load mismatch without damage or loss in performance.
---
Original Press Release:

Tyco Electronics Announces M/A-COM 1,000 Watt Bipolar Transistor for Avionics Applications



Transistor Ideally Suited for Tactical Air Navigation System and Similar Short Pulse Applications

LOWELL, Mass. - May 8, 2007 - Tyco Electronics today announced the M/A-COM MAPRST1030-1KS, a new 1,000 W peak, class C bipolar transistor designed for 1030 MHz pulsed avionics applications. The transistor is ideally suited to operate in IFF/TACAN (tactical air navigation system) or similar short pulse formats and features a minimum gain of 8.0 dB (>8.6 dB typical) with 45% minimum collector efficiency (>50% typical) on a 50Vdc supply.

"The one thousand watt power rating on this new transistor can greatly enhance the range capabilities of new avionics systems," said Andrew Tse, product line manager, Tyco Electronics M/A-COM Radar and Avionics. "Additionally the unique power capability of the product will contribute to more compact system designs, as one device can replace a pair of devices in the final amplifier circuit architecture."

Designed for maximum durability, the M/A-COM MAPRST1w030-1KS is housed in a hermetic, ceramic/metal package for high reliability that can tolerate a 10:1 load mismatch without damage or loss in performance. M/A-COM brand driver stages for the MAPRST1030-1KS are also available, including the MRF10005, MRF10031 and MRF10150.

Pricing and Availability
The M/A-COM MAPRST1030-1KS is priced at $393 USD each in production quantities of hundreds. Pricing is subject to change. Contact Tyco Electronics' M/A-COM products domestic and international sales channels for price and delivery quotes. Datasheets and supporting technical documents are available online at www.macom.com.

ABOUT TYCO ELECTRONICS
Tyco Electronics, currently a business segment of Tyco International Ltd., is a leading global provider of engineered electronic components, network solutions and wireless systems, with 2006 sales of US$12.7 billion to customers in 150 countries. Tyco Electronics designs, manufactures and markets products for customers in industries from automotive, appliances and aerospace and defense to telecommunications, computers and consumer electronics. With over 8,000 engineers and worldwide manufacturing, sales and customer service capabilities, Tyco Electronics' commitment is its customers' advantage. More information on Tyco Electronics can be found at www.tycoelectronics.com.

o M/A-COM, the TE logo and Tyco Electronics are trademarks.

oOther products, logos and Company names mentioned herein may be trademarks of their respective owners.

For sales information, please contact:
M/A-COM, Inc.
1011 Pawtucket Blvd.
Lowell, MA 01853

Americas -- 1-800-366-2266
Europe/Middle East/Africa -- +44 1908-574-200
Asia/Pacific -- 81-44-844-8296

Product Communications:
Pat Hindle
978-442-4825
hindlep@tycoelectronics.com

More from Optics & Photonics