Bipolar Operational Amplifier can source or sink up to 125 A.
Press Release Summary: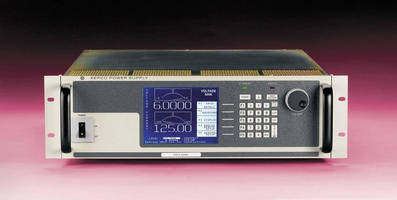 High current, 1 kW BOP 6-125MG can perform in Current mode-Voltage limit, as well in Voltage mode-Current limit, having a current-voltage rectangular characteristic. Up to 5 units may be operated in parallel for source-sink capability of up to 625 A at 0-6 V, and up to 3 units can be connected in series for up to 125 A at 0-18 V. Product is suited for many complex applications, such as battery test and characterization as well as corrector and injector magnets for medical imaging.
---
Original Press Release:

Kepco Introduces 125 AMP Bipolar Model



Kepco is pleased to announce the introduction of a new, high current model to its popular 1 Kilowatt BOP (Bipolar Operational Amplifier) series. The new model (BOP 6-125MG) enables the user to source or sink up to 125 Amps of current using a single 3U module with accuracy and readback in current mode of 200 ppm. The unit can perform in Current mode-Voltage limit, as well in Voltage mode-Current limit, having a current- voltage rectangular characteristic. Up to 5 units may be operated in parallel for a source-sink capability of up to 625 Amps at 0-6 Volts and up to 3-units can be connected in series for up to 125 Amps at 0-18 Volts.

The BOP series is ideal for many complex applications such as battery test and characterization, corrector and injector magnets for medical imaging and other particle accelerator applications and solar cell test and characterization.

For complete details on specifications see www.kepcopower.com/bophi.htm
Price: $6895.00 each
Availability: stock to 6 weeks ARO

Contact: Oscar Rozo
Phone: (718) 461-7000
Fax: (718) 767-1102
E-Mail: orozo@kepcopower.com
http: www.kepcopower.com/bop.htm

Kepco, Inc.
131-38 Sanford Avenue
Flushing, New York 11355
(718) 461-7000
Fax: (718) 767-1102
E-mail: hq@kepcopower.com
URL: www.kepcopower.com

Related