Biostable Coolant eliminates need for tankside biocides.
Press Release Summary: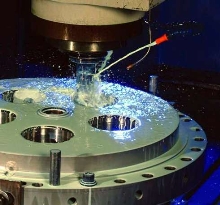 Developed for use in machine shops and industrial metalworking facilities, Shur Cool® 4055 is formulated to provide corrosion control, rust protection, and lubricity, all while naturally inhibiting microbial growth. Heavy-duty, semi-synthetic metalworking fluid enables machining centers to do without tankside biocide systems and their resultant odors, dermal irritation, and associated labor.
---
Original Press Release:

New Coolant Makes Tankside Biocides Obsolete


TUPELO, MISSISSIPPI-A growing number of machine shops and industrial metalworking facilities are enjoying a more efficient and more pleasant workplace environment after introducing a new, uniquely biostable coolant into their operations.

Shur Cool® 4055, recently developed by T&L Specialty Company, is a heavy-duty, semisynthetic metalworking fluid, specially formulated to provide excellent corrosion control, rust protection and lubricity, all while naturally inhibiting microbial growth.

As a result, machining centers are doing away with tankside biocide systems and all the drawbacks that come with them, such as the infamous "Monday-morning" stench, the dermal irritation and the labor-costly duties of monitoring and replenishing a tankside biocide supply.

For many users, the winning formula also includes the added value of T&L Specialty's technical support.

According to Trey Schlicht, an engineering manager for Baldor Electric Company, a global designer and manufacturer of industrial electric motors, drives and generators, "What really convinced me to try Shur Cool 4055 was T&L's service. [In addition to sales reps, we had T&L's production managers and chemists all working together to solve our application issue."

T&L Specialty Company has been providing custom-blend chemicals to a wide range of industrial customers since 1983. Today, with a history of solving problems and an arsenal of innovative products, the company is poised to proactively engage the North American market. Committed to developing the most economical and environmentally conscious solutions, T&L processes and supplies cleaning agents, coolants, rust preventatives, metalforming lubricants, paint strippers, media-blasting agents and more.

For more information, contact T&L Specialty Company, Inc., 300 Airpark Road, P.O. Box 2144, Tupelo, Mississippi 38803, 800.882.5966 or 662.842.8143, fax 662.842.8583, http://www.tlspecialty.com/

More from Fluid & Gas Flow Equipment