Biopsy Valves are disposable for patient/staff protection.
Press Release Summary: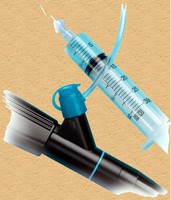 Made of medical-grade thermoplastic elastomers (TPEs), BioShield(TM) disposable biopsy valves ensure patients are protected from cross-contamination issues caused by product reuse. TPE material, construction, and airtight design reduce hissing and leaking of potentially infectious body fluids onto administrators. Exhibiting ozone resistance and UV stability, products provide immediate, direct irrigation and comply with FDA regulations.
---
Original Press Release:

Disposable TPE Biopsy Valves from US Endoscopy Offer Unsurpassed Protection for Patients and Staff



TPE Replacing Silicone Offers More Features and Benefits

MENTOR, OH (April 25, 2006) -- While some people might think various products that are designed to be used only once a bit excessive, the advent of disposable devices in the medical profession has been a boon to both patients and medical personnel. Reasons for disposables include safety/health for the patient and again, safety, as well as convenience, costs and time savings for healthcare professionals.

One of the many product categories where disposables have become popular are endoscopes used for the exploration and/or biopsy of organs and tissue. It is widely acknowledged by medical personnel that a key component of endoscopes -- biopsy valves, with many of them manufactured out of silicone -- are difficult to clean owing to their complex design. Further, silicone brings on its own set of unique problems.

Biopsy valves, by nature of their design, have instrument seals that help "squeegee" off blood and body fluids as they are withdrawn from the biopsy channel. Unfortunately, remaining biomaterial can collect within the internal nooks, crannies and crevices of the valves which cannot be removed by the bristles of a cleaning brush. This results in microbial reservoirs that can harbor dangerous pathogens. And as noted, safety of the clinician is also an issue since reprocessed silicone biopsy valves can stretch out and leak, subjecting healthcare workers to dangerous and potentially infectious fluids and thus posing a health issue.

This is not the case with biopsy valves supplied by US Endoscopy. US Endoscopy (founded 1991), is a privately held, family-owned company that specializes in device design and manufacture of accessories for GI endoscopy. Their solution for a new line of BioShield (TM) disposable biopsy valves came in the form of advanced materials developed expressly for medical applications. The materials, specifically medical grade TPEs (or thermoplastic elastomers) from GLS Corporation (McHenry, IL), ensure that patients are protected from any danger of cross-contamination due to product reuse. Also, utilization of TPEs has enabled the manufacture of a device that can provide immediate, direct irrigation without the cost of high-priced, new equipment. The TPE material, coupled with superior construction and an airtight design, resulted in a component that reduces "hissing" and leaking of potentially infectious body fluids onto administrators.

"The standard in biopsy valves had been silicone until TPEs proved their mettle," recalls Christopher J. Kay, the Manager of Advanced Engineering and Polymer Technology at the 14-year-old medical products firm. "We opted to find a silicone substitute for a variety of reasons and endeavored to establish numerous performance standards".

According to this company spokesman, the new material had to:

· be easily run on their own injection molding presses on multi-cavity molds. He notes they were and are experienced thermoplastic molders;
· impart a better seal and be versatile enough to handle the design parameters (and constraints) in terms of softness, and hardness for proper fit (cap to body) to eliminate any potential of leaks;
· enable a tube to be bonded to the body material for units sold with irrigation tubes;
· provide a controlled degree of tackiness for the valves to remain affixed to the endoscope;
· be "user-friendly" in terms of application by medical professionals and patients; and
· have good colorability to differentiate US Endoscopy products from all others (valves come in two colors, aqua marine and a new Pentax scope line colored lime green).

"After discussing our needs with several TPE compounders (formulators)," continues Mr. Kaye, "GLS was able to provide the most suitable grade to meet FDA compliance. We achieved what we needed - ease of processing, a rubbery feel, a soft touch and excellent colorability with the added benefits of good ozone resistance and UV stability, along with the needed performance characteristics."

Chris Kay acknowledges that his medical device firm has also turned to TPEs for other product applications, among them using another GLS TPE product in a seal on the firm's Guardus(TM) overtube line used for removal of foreign bodies or food impaction from a patient's esophagus. Again, he notes, the TPE used as a seal helps the product address the inadequacies of traditional overtubes by enhancing the efficacy and safety of medical procedures while administering the product.

US Endoscopy, boasts a team with more than a century of experience in designing and manufacturing endoscopy accessories. From its Mentor, OH production facilities, the firm and its personnel work closely with clinicians, listening to their needs and responding with problem-solving device solutions. Dean Secrest, Executive Vice President of Research and New Product Development is a designer and inventor of numerous innovative products that provide high performance and value for customers. Currently, he spends a significant amount of time working with clinicians to deliver problem-solving, new product solutions, like this one.

For more information on products and services from US Endoscopy, contact: Marketing Department, US Endoscopy, 5976 Heisley Road, Mentor. OH 44060. Tel: 440-639-4494. Fax: 440-639-4495. E-mail: sales@usendoscopy.com. Web: www.usendoscopy.com.

GLS Corporation specializes in the manufacture of application-specific custom formulated soft and ultra-soft thermoplastic elastomers (TPEs) for injection molding and extrusion. GLS has supplied specialty TPEs to the industry since 1979, and is recognized as a global leader in TPE technology solutions. Specific products sold by GLS include proprietary DYNAFLEX® TPE compounds based on KRATON® polymers (available in injection molding and extrusion, as well as medical and FDA grades); VERSAFLEX® TPE specialty alloys (available in soft touch, lightweight, ultra-soft, ultra-clear and overmolding grades); VERSALLOY® TPV alloys; and VERSOLLAN(TM) TPU alloy compounds. GLS is also the exclusive distributor of KRATON® compounds and polymers for the compounding market in the United States, and also distributes KRATON compounds and polymers globally. Applications for these materials are found in consumer, medical, sports and leisure, automotive, lawn and garden, appliance, kitchen tool, power tool, personal care and industrial markets, among others.

For more information, in the U.S., contact: Marketing Department, GLS Corporation, 833 Ridgeview Drive, McHenry, IL 60050-7050. Telephone: (815) 385-8500 or (800) 457-8777. Fax: (815) 385-8533. E-mail: info@glscorp.com Web: www.glscorp.com.

In Europe, contact: Mr. Jack Van Gaans, GLS International Inc. · Handelscentrum Oudenbosch · Bosschendijk 193, unit 020 · 4731 DD Oudenbosch · The Netherlands Phone: +31 (0) 165 331 293 · Fax: +31 (0) 165 331 296 · Mobile: +31 (0) 653 317 296 E-mail: jvangaans@glscorp.com.

In Asia, contact: Mr. Wing Lau, Business manager, GLS Hong Kong Ltd., Room 5, 5/F, Block B, Veristrong Industrial Centre, 34-36 Au Pui Wan Street, Fo Tan, Shalin, N.T., Hong Kong. Tel: 011 852 2690 5330. Fax: 011 852 2690 5223. E-mail: wlau@glscorp.com. Web: www.glscorp.com.

DYNAFLEX, VERSAFLEX and VERSALLOY are registered trademarks of GLS Corporation.
DYNAFLEX compounds contain KRATON Polymers.
KRATON is a registered trademark of KRATON Polymers U.S. LLC.
VERSALLOY is a DSM - GLS alliance product; the name VERSALLOY is a trademark of GLS Corporation.
VERSOLLAN is a trademark of GLS and contains high performance thermoplastic urethanes.

More from Architectural & Civil Engineering Products