Biomass Moisture Meter helps prevent machinery problems.
Press Release Summary: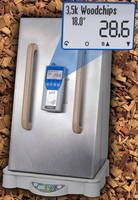 CheckoLine® BM2 measures moisture content of wood chips, barks, wood, straw, or miscanthus pellets, elephant grass, wood shavings, and sawdust. As QC tool, it allows moisture-related machinery issues to be detected prior to serious problems and also helps ensure biomass producers, suppliers, and end users are not paying for excessive water content. Sample temperature and moisture content appear on backlit LCD in seconds, and built-in datalogger stores up to 10,000 entries.
---
Original Press Release:

BM2 Biomass Moisture Meter Detects/Prevents Costly Machinery Issues and Ensures Fair Pricing for Biomass Products



Fast, accurate and easy to use, the new CheckoLine® BM2 Biomass Moisture Meter measures the the moisture content of wood chips, barks, wood, straw or miscanthusen pellets, elephant grass, wood shavings and sawdust. As a quality control tool, it allows moisture-related machinery issues to be detected early before serious problems arise. It also helps helps biomass producers, suppliers and end users ensure that they are not paying for excessive water content.

The BM2 features simple operation: To operate, fill the stainless steel measuring chamber with sample material; no special prior sample material preparation is required. Use the gauge keypad to select the correct material calibration curve, common curves are included in the software or use the customer calibration function for special products. In seconds, sample temperature (Fahrenheit or Centigrade) and moisture content (from 5% up to 60%) appear on the large, back-lit LCD display.

If required, measurements can be stored in the instrument. A built-in datalogger stores up to 10,000 entries with suppliers' data and batch numbers. Measurements can be recalled for transferred to a computer for later download to a portable printer or computer. An integrated online function allows stored data to be transferred to other third-party programs.

The BM2 has a resolution of 0.5% water content and a calibration accuracy of ±1.5% with automatic temperature compensation and self-calibration. Four AA batteries provide power for 900 readings. Gauge menus are available in English, German, French and Italian. The BM2 is supplied with a sample measuring bucket, interface for PC transfer, data link cable, USB/RS-232 adapter, LogMemorizer software, 4 AA (1.5V) alkaline batteries, calibration certificate and operating manual. It can be bundled with an optional digital scale. Two-year warranty.

For additional information contact:
Andrew Kaner
Product Manager
ELECTROMATIC Equipment Co., Inc.
1-800-645-4330
FAX: 1-516-295-4399
www.checkline.com

More from Construction Equipment and Supplies