BioHiTech Global Receives Initial Multi-Unit Order for Its New Sapling Food Waste Digester from a Regional Grocery Chain in the Northeast US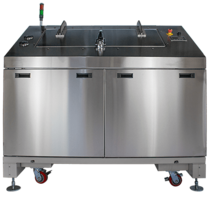 - Company to install Sapling Digesters at six locations and expects to roll out additional units throughout this customer's 19 locations in three states
CHESTNUT RIDGE, N.Y., May 9, 2019 /PRNewswire/ -- BioHiTech Global, Inc. ("BioHiTech" or the "Company") (NASDAQ: BHTG), a technology and services company that provides cost-effective and sustainable waste management solutions, today announced that it has received an initial multi-unit product order for its new BioHiTech Sapling® food waste digester from a regional grocery chain operating 19 locations in three Northeastern states.
The Sapling Digester is a larger capacity addition to BioHiTech's line of Revolution Series™ Digesters. The Revolution Series of Digesters provide a cost-effective, regulatory-compliant food waste disposal solution that aligns well with the sustainability vision of today's businesses. BioHiTech's Digester technology safely disposes food waste on-site, eliminating hauling costs and reducing pest-related issues typically associated with traditional disposal methods. Each Sapling Digester is capable of diverting up to 800 pounds per day or 146 tons from landfills each year. The six Sapling units to be installed at these grocery locations, are capable of diverting from landfills as much as 1,750,000 pounds of food waste each year. The elimination of waste transportation would result in a reduction of CO2 emissions by the equivalent of removing over 120 trucks from the road.
Additionally, BioHiTech's Digester technology provides valuable real-time data analytics through the BioHiTech Cloud® that will enable food waste diversion tracking and potentially find areas to reduce food waste generation. This data transparency allows organizations to educate staff and the community about the real impact of food waste diversion programs by embedding accurate, real-time data into company newsletters, onto their consumer-facing websites and digital signage platforms. 
BioHiTech's digester technology was recently featured by Forbes. A link to the article can be found at: https://www.forbes.com/sites/kateharrison/2019/04/22/the-philadelphia-eagles-are-addressing-the-landfill-crisis-with-this-tech-your-company-could-too/#1ee489cc31a8. 
"We are excited about the launch of our new Sapling Digester for cost-effective and sustainable food waste disposal, as well as receiving our first order from the regional grocery chain," said Frank E. Celli, Chief Executive Officer of BioHiTech Global. "Food waste disposal causes a unique set of problems including, pests, odors, and expensive transportation costs. Our technology solves these problems in a way that is environmentally responsible and cost-effective. We continue to build momentum as companies search for alternatives to an unsustainable status quo and look forward to rolling out our new larger capacity Sapling Digesters to the grocery and other higher volume markets."
About BioHiTech Global

BioHiTech Global, Inc. (NASDAQ: BHTG), is changing the way we think about managing waste. Our cost-effective technology solutions include the patented processing of municipal solid waste into a valuable renewable fuel, biological disposal of food waste on-site, and proprietary real-time data analytics tools to reduce food waste generation. Our unique solutions enable businesses and municipalities of all sizes to lower disposal costs while having a positive impact on the environment. When used individually or in combination, our solutions lower the carbon footprint associated with waste transportation and can reduce or virtually eliminate landfill usage. For more information, please visit www.biohitech.com.
Company Contact:

BioHiTech Global, Inc.

Rich Galterio 

Executive Vice President

Direct: 845.367.0603

rgalterio@biohitech.com 

www.biohitech.com
More from Architectural & Civil Engineering Products