BioFit Rolls Out New Critical Performance Ergonomic Seating Models at NeoCon 2015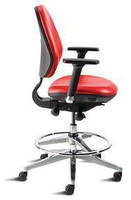 CHICAGO – BioFit Engineered Products, a globally recognized manufacturer of ergonomic seating solutions, introduced models from its two newest lines today at the opening of NeoCon 2015 in Chicago. Headlining the company's exhibit are Pro series designs from the MVMT™ seating line, and the fifth and lead model of the bimos by BioFit™ Collection – the Neon. Other highlights of the exhibit include the Fin sit-stand – another model from the bimos collaboration, product demonstrations and presentations by BioFit President Ed Metzger on key differentiators of specialized workplace seating.



Unveiled at last year's show, industry-newcomer MVMT seating garnered the Best of NeoCon 2014 Innovation Award. The line is comprised of two series – Pro and Tech, with BioFit showcasing configurations from the MVMT Pro series at this year's event. MVMT seating was developed in collaboration with Studio Fifield of Milan, Italy, and created for use in the technology, laboratory, healthcare and industrial sectors, including critical environments such as clean rooms. The line combines technical precision and durability with a design aesthetic not normally associated with traditional laboratory and technical workspaces. The design features intuitive functionality that enhances user range of motion and what may be the first weight-activated control in a predominantly non-office chair. BioFit President Ed Metzger noted: "Critical performance seating is such a removal from the contract seating most people envision when you say 'work chair.' MVMT is engineered to address user range of motion intrinsic to tasks in the lab and tech sectors. It's the culmination of in-depth observation, interviews and interaction with prototypes by top researchers, technicians, clinicians and other long-time users in these fields."  In addition to winning the Best of NeoCon 2014 Innovation award, MVMT seating has subsequently been honored with other industry recognition over the past year.



The bimos by BioFit Collection melds original design from European seating leader bimos with the proven ergonomic tradition of BioFit. This morning, BioFit introduced the Neon – the fifth and flagship model of the line. Featuring a replaceable upholstery system, the Neon was developed for use in technology, laboratory, educational, healthcare, industrial, and office settings. Another model from the Collection is also on exhibit: the swiveling Fin sit-stand for tasks requiring prolonged periods of standing. The Fin allows users to redistribute their weight, taking up to 60% of the stress off of their legs and feet.



About Studio Fifield: Studio Fifield of Milan, Italy, helps business leaders recognize opportunities for innovation and identify breakthrough ideas that can be transformed into commercially successful solutions. Founded by Bruce Fifield, the company specializes in designing products used in the office environment, medical devices, high-end eyewear, sporting goods and more.



About bimos: bimos is Europe's leading designer and manufacturer of specialized seating solutions. Headquartered in Germany, bimos combines the latest research and technology with traditional craftsmanship to provide seating that meets the specific needs of individual companies. An Interstuhl brand, bimos is backed by decades of development and production experience.



About BioFit: Located in Bowling Green, Ohio, BioFit Engineered Products is a leading manufacturer of LEED-compliant, ergonomic chairs and stools, GREENGUARD-certified mobile tables, carts and accessories for healthcare, education, laboratory, industrial, technology and office environments. Visit BioFit booth #7-8070 at NeoCon June 15 – 17, at the Merchandise Mart in Chicago to experience the MVMT Pro series and leading models from the bimos by BioFit Collection. For more information about BioFit, visit www.biofit.com or call 800-597-0246.



Related