BioFit Revamps Foundation Seating Line with New Componentry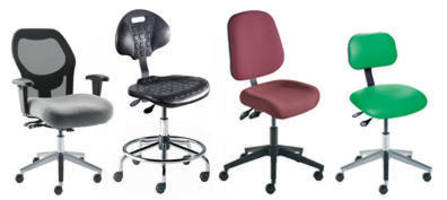 BOWLING GREEN, Ohio — BioFit Engineered Products, a globally recognized designer and manufacturer of ergonomic seating solutions, revealed major updates to its Foundation seating line this week. Changes affect nearly every model in the line and include four new base designs and two new caster styles for both conventional and specialized workplaces. The updates were implemented to provide a fresh look and enhanced safety features.



The BioFit Foundation line seating consists of chairs and stools for markets including healthcare, laboratory, education, office, industrial and technology. Models range from multipurpose task chairs and executive units to models for harsh environments to specialized facilities such as clean rooms. The new Foundation line bases come in four styles: cast aluminum, reinforced composite, polished wide aluminum, and tubular steel. They feature a high-profile look, offering a more contemporary, European-aesthetic compared to the components they replace. Additionally, the bases have a wider leg spread which results in greater stability, and subsequently, increased safety.



The new aluminum, wide aluminum and reinforced composite bases feature a proprietary T-shape construction, providing added strength and facilitating easier cleaning compared to their predecessors. The new tubular steel bases include an additional 1" in footring diameter, for a total of 21". On models with larger seats, this is important in maintaining circulation to the lower legs of users.



Two new styles of casters include a hooded, dual-wheel resistance caster and a similar model designed for specialized use in electrostatic dissipative (ESD) applications. Both casters are designed to increase workplace safety, as chairs on which they are installed will not roll unless they are occupied. Both styles are non-marring and are designed to complement the look of the new Foundation line bases. The high-profile bases and resistance casters are offered as standard equipment and are not subject to an upcharge.



Commenting on the base and caster upgrades, BioFit President Ed Metzger remarked: "We're pleased to offer these innovations in an effort to not only improve the workplace experience, but to provide specifiers and interior designers with more impactful looking products."



Ohio-based BioFit Engineered Products designs and manufacturers LEED-compliant ergonomic chairs and stools, GREENGUARD-certified cafeteria tables, carts and accessories for healthcare, laboratory, technology, office, education and industrial environments as well as custom applications. BioFit strives to improve the workplace and learning experience through innovation, ergonomic performance and reliability. For more information, visit www.biofit.com or call 800-597-0246.



Related