BioFit Reinvigorates Product Sample Program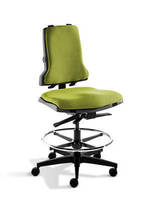 BOWLING GREEN, Ohio — BioFit Engineered Products, a leading designer and manufacturer of ergonomic seating and mobile folding tables, kicked off 2015 with the introduction of an enhanced product sample program. The program allows existing and prospective customers to "test sit" select chairs and stools in their own workplaces for several days prior to making a purchase decision.



The new BioFit sample program enables qualified customers and prospects to field test ergonomic seating specially designed for the workers and tasks in their respective industries, The company believes pre-sale product sampling allows customers to make a more informed purchase choice, potentially leading to a higher degree of satisfaction after the sale. BioFit offers seating solutions for the healthcare, laboratory, technology, education, industrial and office markets as well as custom applications. Sample products are available from nearly every seating product line, including models from the popular bimos by BioFit™ Collection, a collaborative initiative between BioFit and leading European seating manufacturer bimos. The collection consists of four models, headlined by the Sintec™ chair, which features removable and replaceable seat and backrest pads to accommodate diverse tastes and work settings, and the Fin™ sit-stand, for jobs requiring prolonged periods of standing. The Fin unit is characterized by intuitive functionality and a durable polyurethane seat mounted on an adjustable inclined pneumatic column. The design allows users to take up to 60 percent of the stress off of their legs and feet, potentially enhancing productivity and performance. Like most BioFit seating products, these models are available in multiple configurations and backed by a 13-year warranty. 



About bimos: Headquartered in Germany, bimos is Europe's leading designer and manufacturer of specialized seating solutions. As an Interstuhl brand, bimos is backed by decades of development and production experience.



About BioFit: Based in Bowling Green, Ohio, BioFit Engineered Products is a globally recognized manufacturer of LEED-compliant, ergonomic chairs and stools, GREENGUARD-certified mobile tables, carts and accessories. For more details on BioFit's product sample program and ergonomic workplace seating solutions, call 800.597.0246 or visit www.biofit.com.